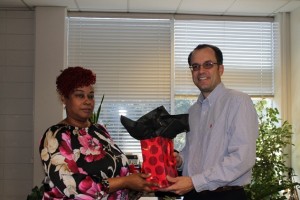 We are pleased to announce that Ms. Sheila Peacock is the winner of our 2014 Thankful Challenge.  Sheila is the administrative secretary in the Master of Library and Information Science office. Ms. Peacock had the most consecutive entries and was presented her prize by our Interim Dean of Education, Dr. Brian Gerber.  We  thank everyone who participated in the "Thankful Challenge" for sharing their thanks on the "Educator" blog and on the COEHS Facebook page.
Stay connected to the Educator , and you just might be the next winner.
Congratulations, Sheila!
Valdosta State University's Dr. Linda R. Most has been appointed to the State Board for the Certification of Librarians by Georgia Governor Nathan Deal.
Most, an Associate Professor and Interim Department Head for the Department of Library and Information Studies in the Dewar College of Education and Human Services at Valdosta State University (VSU) has been in the Library Science field for over a decade. Before coming to VSU, she worked as a reference librarian at the Enoch Pratt Free Library in Baltimore, Maryland, and as the business reference librarian for the Palm Beach County Library System in Florida. She currently serves as a member of the board of directors of the South Georgia Regional Library System in Valdosta. Most earned a bachelor's degree from Goucher College, a master's degree in History from Florida Atlantic University, a master's degree in Library and Information Science and a doctorate from Florida State University. She resides in Valdosta.
Congratulations Dr. Most.
Press Release provided by the Georgia Governor's Office November 24, 2014