The Military Families Learning Network (MFLN) Family Development team invites you to join our October 2015 Virtual Learn Event. The VLE is a themed virtual conference housing weekly sessions in October 2015. MFLN Family Development chose the theme of this year's VLE (Family Violence: Increasing Professional Knowledge, Prevention, and Interventions) to coincide with Domestic Violence Awareness Month. It is our hope that these weekly sessions will enhance your knowledge, awareness and utilization of effective strategies when working with families struggling with family violence. More information about the MFLN Family Development VLE can be found at: http://blogs.extension.org/militaryfamilies/family-development/mflnfd-virtual-learning-event/.
There are various continuing education opportunities for these live professional development training sessions. Types of CEU's offered: National Association of Social Workers (NASW) and Georgia Marriage and Family Therapy. For more information, click here.
Upcoming Webinar!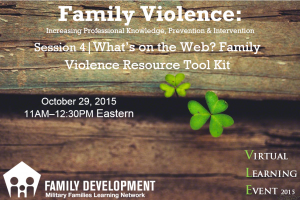 Date: October 29, 2015
Time: 11:00am to 12:30pm EST
Topic: VLE 4 | What's on the Web? Family Violence Resource Tool Kit
Webinar Location: https://learn.extension.org/events/2172
This 1.5 hour webinar will explore common approaches to working with domestic violence but also introduce how they intersect with a strength-based treatment model. Presenters will provide case study examples to further highlight the techniques shared.