During Spring semester 2012, the COE Student Advising Center (COE-SAC) counseled 112 freshmen who were placed on academic probation after attending one semester at Valdosta State University (VSU).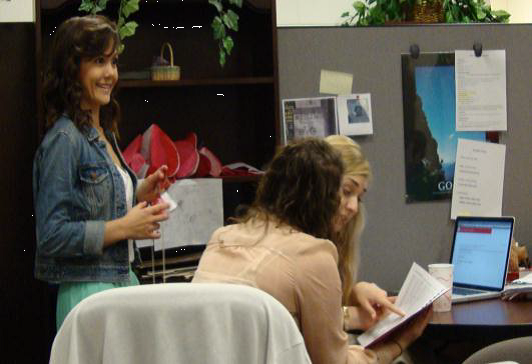 During our counseling sessions, most students made the following comments:
"I didn't know I could get help or where to go for help."

"By the time I found out that I could withdraw from classes, it was after midterm and too late."

"I knew I was failing at mid-term, but I thought I could pull it up."

"It was my first time away from home. I wasn't self-disciplined."

"I never had to study in high school, so I thought college would be the same."
To be proactive, the COE-SAC staff decided to hold an open house during Fall semester 2012. The main focus of the open house was to empower students by sharing with them the resources available to help them make smart decisions and be successful.
The open house was for all new and transfer students. Our graduate assistants worked hard to market the open house and decorate the office. Each student received a personal email inviting them to the week-long event. Students were asked to either schedule a specific time to come by or to drop by at their convenience. The COE-SAC staff members met with each student and explained their program of study, GPA requirements, and the "5 (Withdrawal) policy". Students were also informed about some helpful resources available to them, such as, the student success center, career services, and the counseling center. The COE-SAC staff members also encouraged the students to use their VSU email as their main mode of communication with the COE-SAC staff and their professors. Afterwards, students were invited to enjoy a snack and register for a chance to win a "Chick-fil-A" coupon. A winner was announced daily. It was a busy week, but it was time well spent. The open house helped the advising sessions in October take less time since most students had already been informed about all the basic information they needed to know.
COE-SAC has recently received the academic probation list for the fall 2012 freshmen. We were pleased that the number of freshmen on academic probation was down from 112 to 64. We plan to have an open house each semester to inform and help new students have a successful academic experience.
Please encourage any student new to VSU this semester to stop by. Also encourage all your students to make COE-SAC their home away from home.
Sheree Hudson