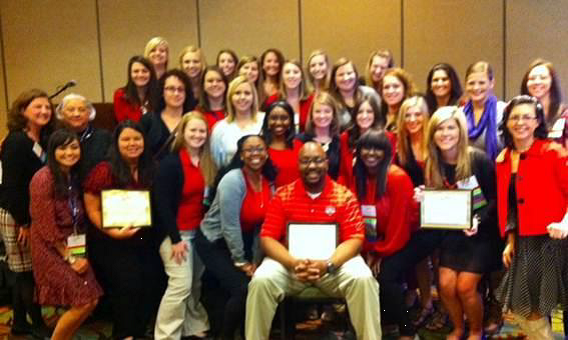 The National Student Speech-Language Hearing Association (NSSLHA) founded in 1972 is the national organization for undergraduate and graduate students interested in the study of normal and disorders of human communication. VSU NSSLHA chapter members have been actively involved in a number of departmental and community service projects this year. They began the 2012-2013 academic year by participating in the Alzheimer's Walk at McKey Park. Many students participated and our chapter was recognized by the local Alzheimer"s Chapter as having the most online participants to register for the walk. The VSU NSSLHA Chapter raised approximately $370.00 for the cause.
Students also donated school supplies to the SOS Children's Village in Harare, Zimbabwe. Dr. Rudo Tsemunhu, a faculty member in the Curriculum Leadership and Technology Program delivered the sup-plies on her trip back home in December 2012. Cobb Pediatric sponsored a competition to see which students from the five schools in Georgia with accredited Speech-Language Pathology programs in the state of Georgia would log onto their website and ask their Speech-Language Pathologists questions about diagnosis and treatment of communication disorders. Of the five programs, VSU Department of Communication Sciences and Disorders won the competition and were the recipients of a $200. 00 voucher for supplies from the Super Duper Publications.
In November, approximately 35-40 students converged on Atlanta, Georgia to attend the 2012 American -Language Hearing (ASHA) Convention. Several students, along with their mentors, presented poster sessions. Sarah Lively and Joni Cox were two of the graduate students who presented their research. David Sampson, another graduate student, was chosen to participate in the 2012 Minority Student Leadership Program sponsored by ASHA. He attended board meetings and saw firsthand how ASHA operates. Approximately 25 students volunteered their time and energy at the convention and were recognized as Student Ambassadors at the 2012 NSSLHAÂ Day activities.
Faculty members also presented at ASHA. Dr. Jade Coston, Dr. Ruth Stonestreet, Dr. Corine Myers-Jennings, Joni Cox, & Sarah Lively Preparing CSD Students to Analyze Language Sample Data Using LENA
Dr. Jade Coston with Dr. Shubha Kashinath (Cal. State-East Bay) and Dr. Juliann Woods (FSU)
Evidence-Based Collaborative Strategies for SLPs Providing Early Intervention Services
Joni Cox, Sarah Lively, & Dr. Jade Coston Using LE-NA to Analyze Lexical Diversity in Parent-Child Dy-ads
Karen R. Noll and Brianna J. Bywater Establishing a Productive Peer Mentoring Relationship.
Dr. Jade Coston with Dr. Carla Wood Jackson (FSU), Dr. Shubha Kashinath (Cal. State-East Bay), and Ma-ya Callendar (FSU) The Utility of LENAs for Authentic Assessment of CLD Children for battered women and children.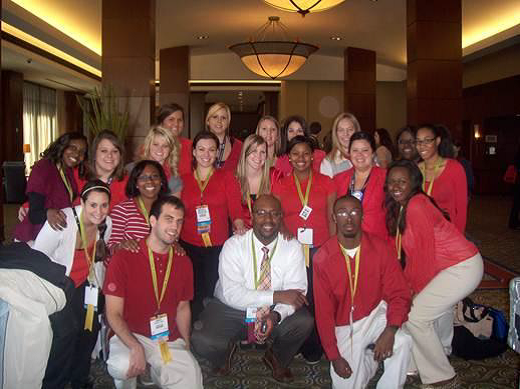 This Spring semester, 2013, approximately 46 under-graduate and graduate students attended the 2013 Georgia Speech-Language Hearing Association (GSHA) in Macon, Georgia. Approximately 15 graduate students and their mentors presented posters at the convention. Amanda Alexander won the award for best student poster presentation, Sarah Lively and David Sampson won therapy material during the luncheon drawing and give away from Super Duper Publications. David Sampson was also awarded the Jack Bess Scholarship in the amount of $500.00. This award recognizes a student who has displayed exceptional scholastic achievement, leadership skills, and professional involvement in research or service at the local or national level (GSHA, 2013). Vince Clark, a former VSU graduate, was honored by receiving the Robert A. Hull Leadership Award. Other recognitions included VSU having the most students attending the convention, having the most poster sessions, and having the most students who had joined GSHA during the member-ship drive.
In the February 2013 issue of the ASHA Leader, Lora Backes and her sister Joan were featured in an article in the section called Family Matters. Stephanie Crook, a third semester graduate student, her mother, and sister were also featured in the First Person Section. Stephanie and her sister are speech-language pathology students while her mother is a practicing Speech-Language Pathologist.
Ruth Renee Hannibal