I am extremely excited to announce that the Sullivan Literacy Center website is alive and functional! Look for it on the COE Early Childhood and Special Education home page. The SLC website includes our mission statement, goals, and our motto: Every Child Can Read and Write. You can also find program information and registration forms for the Literacy Education Assessment Program (L.E.A.P.), Blazing Through Books Program, and the new Blazing LitES (Literacy Education Success) Program. VSU students can also find and sign up for three volunteer opportunities which include: Blazing Through Books, Dear Blazer Buddy Pen Pal program, and M-CAT (Multidisciplinary Child Advocacy Team) content area tutors.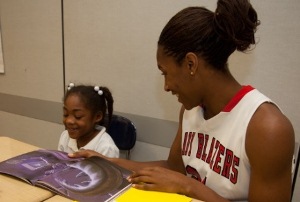 The Ruby R. Sullivan Literacy Center is an integrated system of care for the children and families of Valdosta and surrounding areas with a focus on building children's literacy skills, motivation, and confidence. The center now serves children in kindergarten through fifth grade, but programs are being developed for prekindergarten, middle school, and high school students.
Thank you for supporting the Sullivan Literacy Center !
Dr. Gina M. Doepker
COE Associate Professor
Sullivan Literacy Center Director
slc@valdosta.edu