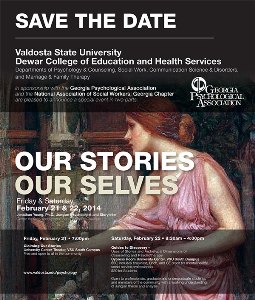 Valdosta State University's James L. and Dorothy H. Dewar College of Education and Human Services will host a weekend series with world-class Jungian psychologist and storyteller Dr. Jonathan Young Feb. 21-22
Young is founding curator of the Joseph Campbell Archives and Library and director of the Center for Story and Symbol, both in Santa Barbara, Calif. His two-day event at VSU, themed "Our Stories/Our Selves," will begin at 7 p.m. on Friday, Feb. 21, in the University Center Theater, with a free public lecture titled "Claiming Our Stories."
The all-day professional workshop is co-sponsored by both the Georgia chapter of the National Association of Social Work and the Georgia Psychological Association. Continuing education units will be awarded.
The cost to attend is $50 for professionals, $20 for students, and includes breakfast and lunch.
Visit www.valdosta.edu/psychology for registration and event information.