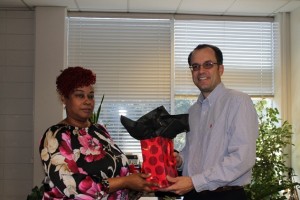 We are pleased to announce that Ms. Sheila Peacock is the winner of our 2014 Thankful Challenge.  Sheila is the administrative secretary in the Master of Library and Information Science office. Ms. Peacock had the most consecutive entries and was presented her prize by our Interim Dean of Education, Dr. Brian Gerber.  We  thank everyone who participated in the "Thankful Challenge" for sharing their thanks on the "Educator" blog and on the COEHS Facebook page.
Stay connected to the Educator , and you just might be the next winner.
Congratulations, Sheila!