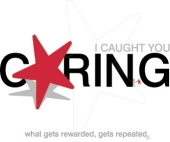 2013-2014 "I Caught You Caring" Card Recipients:

Ryan Beaudry (Formerly Helpdesk)
Philip Bishop (eLearning)
Samantha Bryant (Formerly Helpdesk)
Kyle Culpepper (Media Services)
Bradley Cupp (Media Services)
Rex DeVane (Media Services)
Helpdesk (Team)
Greg Henderson (Applications and Analytics)
Gary Kuhlmann II (IT/Web Services)
Roberto Leal (Media Services)
Benjamin Li (Helpdesk)
Lorrie Proal (IT Administration)
Russell Reese (Helpdesk)
Kanan Simpson (Network Services)
These members received ICYC cards for providing exceptional service.
.
To learn more, visit the 
I Caught You Caring
 website.
---