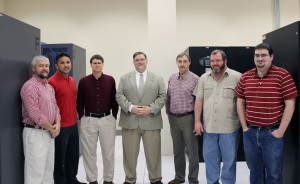 VALDOSTA – Information Technology's Infrastructure Support Services team at Valdosta State University prides itself on developing procedures and best practices that become the standard within IT. Collectively, the unit has worked to not only provide reliable data connectivity and wireless access to every area across campus through a $2.1 million wireless project, but also develop a state-of-the-art data center that houses most of the university's enterprise systems.
In the last two years, the Infrastructure's Systems Operations (Sys Ops) team has removed up to 78 percent of the hardware-based servers within the data center – reducing the amount of power used within the center by approximately 45 percent. The consolidation of multiple servers on very few physical host servers has allowed for improved deployment of applications, reduced downtime and quicker disaster recovery. The design allows for continual growth of servers in a more condensed area. The conservation of space, energy and operational expenses result in thousands of dollars in direct and indirect costs savings over time.
The work of the Sys Ops team has garnered the University System of Georgia's stamp of approval in a recent audit of IT's critical systems inventory. IT was successful in earning the highest level of maturity – demonstrating procedures that are well-measured, controlled and focused on improvement while highlighting inventory documentation that is greater than 90 percent and regularly updated. Valdosta State's IT division is one of six in the university system, and the only comprehensive university, to achieve this status.
"We owe this outstanding report to the efforts of the Systems Operations team," said Ike Barton, assistant director of Infrastructure Support Services at VSU. "The Sys Ops team provides foundational support for our critical services. Knowing where and what those critical assets are is paramount to the security of those services."
Sys Ops Coordinator Dwayne Trouille said that developing a polished process has "truly been a team effort."
"While focus has been placed on our inventory list, a good bit of our effort has gone into our disaster and recovery plan and making sure that it is consistent with what is outlined within the USG IT's Continuity of Operations Planning guidelines," Trouille said.
Team members have worked together to document procedures for the data center manager, Jody Hudnall, who compiled, updated and formalized information. Sys Ops team members include Dwayne Trouille, Jody Hudnall, David Pierce, Michael Young and Ken Gutierrez. Network Services Specialist Rocky Rothwell also works very closely with Sys Ops to provide networking support for the data center. Former team members who have also been instrumental include Annon Beepath and Rhett Burroughs.
"Information Technology is part of the fabric of the university," said Brian Haugabrook, chief information officer at VSU. "Technology affects almost every aspect of any industry, especially higher education and learning. Having a strong infrastructure and foundation in IT is the backbone of supporting any innovative solution or initiative. The VSU IT division continues to show leadership in all areas of technology. The staff members and leaders are dedicated to ensuring VSU has a strong, secure technology foundation and that they continuously improve the student experience."
Pictured: Members of the IT Infrastructure Sys Ops team. Right to left: Jody Hudnall, Ken Gutierrez, Rocky Rothwell, Ike Barton, Dwayne Trouille, Michael Young, David Pierce.