The Division of Information Technology (IT) manages the majority of Valdosta State University's network and communications, and computing technologies. Our purpose is to support the university's mission of teaching and learning, research, and service by expanding access to a sound, secure, and sustainable technology infrastructure in terms of business intelligence, instructional technology, information systems and security, networking, and client support.
The IT blog is an extension of our official VSU website, www.valdosta.edu/it.
Subscribe to the IT blog to stay up-to-date on VSU technology-related announcements, initiatives, and services — all designed to help you learn and work more productively.
If you need immediate technical help, please contact VSU Solutions Center at 229-245-HELP (4357).
---
MEET OUR CHIEF INFORMATION OFFICER (CIO) – BRIAN HAUGABROOK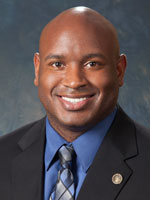 Brian Haugabrook is our new chief information officer (CIO) as of July 1, 2017.
As announced by VSU President Richard Carvajal,
"Our focus – to create an environment of learning for VSU students – is largely influenced by you, the members of the Information Technology team. Keeping this institution on the cutting edge of technology is a large factor in VSU being a contender for students to come here rather than attending other institutions.The search has now drawn to a close and with that being said, I am pleased to inform you that Mr. Brian Haugabrook has accepted my offer to be Chief Information Officer at Valdosta State."
As our former CIO, Brian brings a wealth of experience and returns with a unique perspective and vision for our division. We look forward to his continued leadership.

This page will show details of your email subscriptions. To see the options available to you, click the link in any newsletter email you have received from us