by
Maureen Puffer-Rothenberg
on
March 22, 2010
in
Odum Library
Kevin Wilson's Tunneling to the Center of the Earth collects eleven short stories including "The Shooting Man":
It took me damn near a week to convince Sue-Bee to come watch this guy shoot himself in the face. "Why would I wanna do something like that, Guster?" she asked me, which seemed like a dumb question because why does anyone want to do anything? It just seemed like fun, that's all.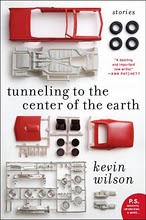 The book includes extras, like "The Stories Behind the Stories," a little essay from the author, and an interview. He says:
This is how I came to writing . . . I read book after book by authors infinitely more talented than myself and tried to learn from them. The only strange detail was that, as I was writing and reading, I was saying to myself, "Kevin, this is going to get you laid." It did not. This was for the best.