Did you know that Odum Library has over 20 group study rooms available on the first and third floors of the library? You no longer have to check these rooms out- instead, they're unlocked and available to the first taker. Unlike the great Oklahoma Land Run of 1889, you don't have to stake your claim. Just find a room and hit the books.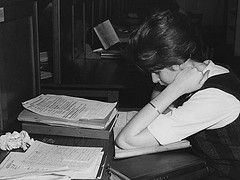 We can't guarantee that the study rooms will always be quiet. Sometimes groups need a place to get together to discuss a project or presentation. Maybe you'd like to quiz your friends about the differences between certain philosopohers' theories. Whatever the topic, study rooms are a great place for you to get together with a group and talk it out. Even if you don't need to hold a discussion, maybe you'd like to get together with your friends to study quietly together. If you'd rather be Tweeting than reading your textbook, studying in a group is a great way to stay focused. At least you know that your best pals aren't out shopping or checking their Facebook, either.
Finals are almost here and the end is in sight. Keep studying- you'll be glad you did!