by
Maureen Puffer-Rothenberg
on
November 16, 2011
in
Odum Library
Odum Commodum was chosen by library staff– from among 375 entries– as the title for Odum Library's restroom newsletter!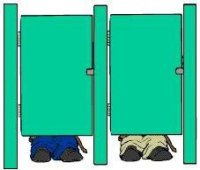 Bobby Marion submitted the winning entry. Bobby, come pick up your $50 gift certificate at the library Circulation desk!
Entries from Paige Boccia and Breana Crocker were randomly drawn to receive $25 gift certificates.
Thanks to all who participated!


We were overwhelmed by the response, and you are a clever, clever bunch. Here are just a few of our favorites (in no particular order):
"BM" – The Bathroom Monitor
The Daily Flush
Wet Shoes
Because We Can
The Writing on the Stalls
The Porcelain Post
The Loo Review
The Leak
Silent Library
Dear John
We Aim to Please – You Aim Too, PLEASE?