Dr. T. Lynn Barber was recently recognized as a Finalist in the national Outstanding Dissertation competition sponsored by the University Council for Workforce and Human Resources Education.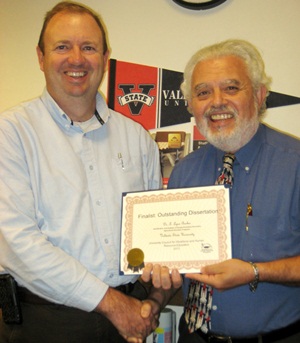 Dr. Barber earned his Doctor of Education Degree in Adult and Career Education in the Summer of 2012.  The title of his dissertation study is "Identification and Analysis of Georgia Exemplary Secondary Agricultural Education Programs". Dr. Reynaldo Martinez, pictured with Dr. Barber, served as the dissertation advisor along with committee members from ACED Dr. Mary Willis, Dr. Iris Ellis and Dr. Kent Moore from the Langdale College of Business.  We are very proud of Lynn's doctoral research and this recognition is an indicator of the quality of his work. 
Congratulations Dr. Barber!