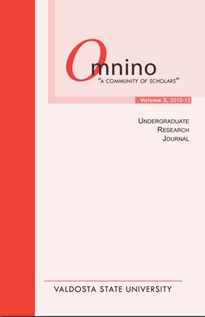 Omnino, VSU's undergraduate research journal, is now accepting submissions for possible publication. All submissions will be peer-reviewed by 2 faculty members with expertise on the paper's topic, and
accepted papers will appear in volume 4 of Omnino (to be released next year).The editors welcome student submissions from any discipline. Last year, Omnino published papers from 9 different departments:
from Chemistry to Philosophy to Theatre/Dance.
Detailed submission instructions may be found on Omnino's website, http://www.valdosta.edu/colleges/arts-sciences/english/student-resources/student-publications/omnino/submit.php. To submit, students
must provide their research paper, an abstract, and a signed Faculty Checklist (available online) by January 20, 2014.
Should questions arise, please feel free to contact the editors at omnino@valdosta.edu.