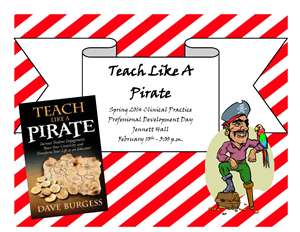 Professional Development Night for all teacher candidates in the COEHS was held Monday night!  What a high-energy, interactive, and entertaining experience for all of our pre-service teacher candidates!  Administrators, mentor teachers and VSU faculty were all in attendance. The presentation was a unique blend of outrageously energetic performance art and magic, mixed with an inspirational message of how and why to become more passionate in the classroom.  The teacher candidates participating in their Clinical Experience this semester were able to walk away with specific engagement strategies that could be implemented in their classrooms and help them to become more effective teachers.
Dave Burgess, a highly sought after professional development speaker well known for his creative, entertaining, and outrageously energetic style was the guest performer.  His workshops, seminars, and keynotes not only motivate and inspire teachers, but also help them to develop practical ways to become more creative and engaging in the classroom.  He is the author of Teach Like A PIRATE:  Increase Student Engagement, Boost Your Creativity, and Transform your Life as an Educator.  His book was recently named in the Educational Top 10 by the New York Daily Times.  We were honored to have him come to Georgia all the way from San Diego California!   For more information on Dave, please visit his website:   http://daveburgess.com/.
The event was hosted by The Office of Clinical Practice and Field Experiences.
Submitted by Ms. Jamie Bird
Pictures from the event