The Dewar College of Education & Human Services
Offers a NEW Study Abroad Program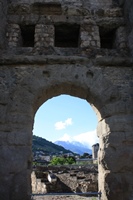 In its pilot year, May 12- June 9, 2015, From Valdosta, GA to Valle D'Aosta, Italy: Children, Culture & Cuisine – Early Childhood in Italy will afford 10 rising seniors in the Early Childhood and Special Education Department 27 days of travel to famous cities and small towns to develop intercultural and pedagogical understandings.The purpose of this faculty-led study abroad program for ECSE teacher candidates at Valdosta State University is to help refine skills of observation, learn about Italian pedagogical practices of early childhood education in an immersion setting, and to develop intercultural competencies, all important skills for educators dealing with today's diverse classrooms. This pilot program, which includes earning 3 graduate level credits, is suitable for education majors (ECSE) entering the third professional semester, maintaining a GPA of 3.0 or higher.
Starting in our sister city in the Valle D'Aosta, deep in the Italian Alps, the program will include opportunities to experience the culture, cuisine, and educational approaches to early childhood development and education in Italy. The program includes fieldwork in local schools, observations in public spaces, and immersion into local and national culture through art, history, cuisine, and interactions with native Italians. Students will take ONE graduate course: ECED 6000 – A study of current issues and concepts in early childhood education. Through journal entries, teaching of mini-lessons, and participant observation, the program will include fieldwork at the nursery school, elementary, and middle school levels.
Pages: 1 2