We are proud of Taray Eady, Cameron Thomson, Chad Lawson, and Kinard Thomas for presenting at the 2014 VSU Undergraduate Research Symposium!
Research Abstract:
A SURVEY OF COMPUTER ASSISTED DRIVING
Lawson, Thomson
Examines the advances of technologies in the automobile industry that are used to assist drivers. The rapid development of computer and communication technologies has a broad and deep impact on all aspects of our life, including our daily driving. In recent years, various technologies have been developed to allow drivers and vehicles to determine their locations on the map, to display rear views, to diagnose mechanic and electronic problems, to communicate with monitoring and emergency centers, and to prevent vehicle theft. However, most of these technologies have not been integrated together as a driving assistant system to help with tedious driving and to avoid accidents and life losses. This paper reviews various driving aid technologies including Global Positioning Systems (GPS), Radio Frequency Identification (RFID), OnStar, Cruise Control and Wi-Fi with an aim to analyze the need and feasibility to integrate them into a computer assisted driving system.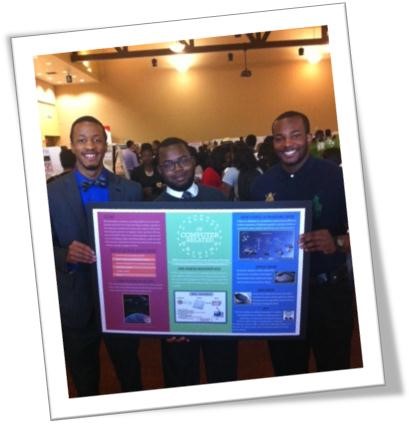 Pictured: Edward Lawson, Kinard Thomas, and Willie Lawrence
Research Abstract:
SURVEY OF WIRELESS TECHNOLOGY FOR NEAR FIELD COMMUNICATION
Eady, Thomson
Near Field Communication (NFC) is a wireless technology for transmission over short ranges. Because of its ease of use, security and versatility, it has been included in almost all mobile devices being released today. Typical applications of NFC include contactless payment to replace various credit cards, building keys, subway passes and movie tickets. The technology is rapidly growing and various other markets have adopted the use of NFC chips and tags into their products, including appliances and automobiles, for device-to-device communications, data transfer, monitoring and automatic control. However, the use of NFC is still fairly new to many users and thus has had a rough start as a mobile payment system. In this paper, we will explore the many different uses of Near Field Communication today, security risk associated with using this technology and its future. View NFC Poster.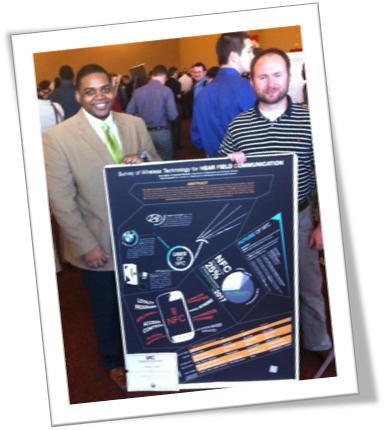 Pictured: Taray Eady and Cameron Thomson