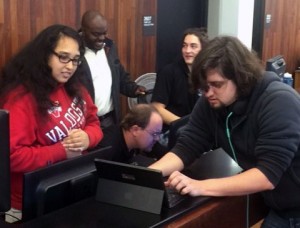 Information Technology's Technical Response Unit is featured in this month's Campus Technology magazine.
In the article, titled "Speeding Up IT Support", Sterlin Sanders, assistant director of IT for Technical Support Services, and Benjamin Li, tier 1 coordinator, discussed the university's development of the Techical Response Unit (TRU) to achieve a 15-minute reponse time and reduce costs.
The TRU is comprised of Quinncy Thomas, who serves as coordinator for the team, and the following students: Abhiuday Gupta, Avery Stephen, Christian Palaypayon, Elana Harper, Gennday Evtodiev, Josiry Orellana, Ryan Waller, Sean D. Holcomb, Shaquille Duncan, Steven Obst. Jeff Shipley and Brian Anderson oversee the Health Sciences and Business Administration building Technical Response Unit.
Campus Technology serves as a resource for academic and administrative IT leaders in higher education. The publication offers best practices, industry trends, expert advice and articles to help with IT initiatives in higher education.
Read the article at Campus Technology: Speeding Up IT Support .