VALDOSTA – Valdosta State University students now have access to the new campus safety mobile app, Blazer Guardian.
The Blazer Guardian app allows students to create safety profiles that streamline communication with University Police as well as friends, family members and classmates. The app also features a safety timer, which can be used to alert police when a student has not arrived at his or her destination within a specific amount of time.
"One of the most important features within the app include a panic button, which immediately calls UPD from the app when pressed," said Interim University Police Chief Alan Rowe. "The app also has a feature called 'Send a Tip', which allows students to send personal or anonymous text messages and photo messages to the UPD if they are in danger or see someone else in danger, but are unable to call and report the incident."
The app immediately provides police with the student's profile and location information once the panic button is pressed or the safety timer expires.
Blazer Guardian is now available within the VState Mobile App (http://www.valdosta.edu/administration/it/applications/mobile/welcome.php) or can be downloaded separately at https://itunes.apple.com/us/app/rave-guardian/id691246562?mt=8 for Apple devices or https://play.google.com/store/apps/details?id=com.ravemobilesafety.raveguardian&hl=en for Android devices.
Blazer Guardian is powered by Rave Mobile Safety, which also powers the university's campus alert system.
App Features
Quick Reference Information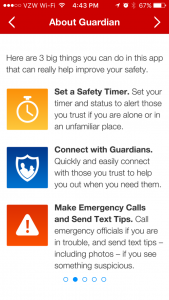 Main Dashboard
Panic Button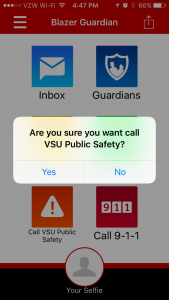 Safety Timer
Send A Tip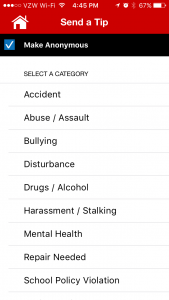 Tip Message Screen