MEET OUR CHIEF INFORMATION OFFICER (CIO) – BRIAN HAUGABROOK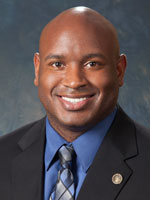 Brian Haugabrook is our new chief information officer (CIO) as of July 1, 2017.
As announced by VSU President Richard Carvajal,
"Our focus – to create an environment of learning for VSU students – is largely influenced by you, the members of the Information Technology team. Keeping this institution on the cutting edge of technology is a large factor in VSU being a contender for students to come here rather than attending other institutions.The search has now drawn to a close and with that being said, I am pleased to inform you that Mr. Brian Haugabrook has accepted my offer to be Chief Information Officer at Valdosta State."
As our former CIO, Brian brings a wealth of experience and returns with a unique perspective and vision for our division. We look forward to his continued leadership.