Linda Paul's radio story "Jennie's Secret" tells of "a woman who posed as a man during the Civil War and went on to live most of her life as a man in the tiny town of Saunemin, Illinois. Over the years the town has been ambivalent about their most famous citizen and is struggling to figure out how to honor the memory of Jennie Hodgers/Albert Cashier."–transom.org
There's more on Cashier (and many others, including spies, wartime nurses, and vivandieres) in She Went to the Field: Women Soldiers of the Civil War.
My Last Skirt: the Story of Jennie Hodgers, Union Soldier is a fictionalized account of Jennie/Albert's early life and military career, written for younger readers (ages 9-12)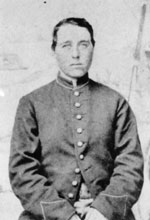 We also recommend They Fought Like Demons: Women Soldiers of the American Civil War for a look at women as prisoners and casualties of war, life as a female soldier, and the postwar experience.