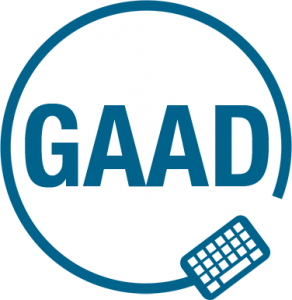 What is GAAD?
GAAD is Global Accessibility Awareness Day
On Thursday, May 15, 2014 you are invited to participate in Global Accessibility Awareness Day. The purpose of the day is to get people talking, thinking and learning about website accessibility and people with disabilities.
For an hour we invite you to experience web accessibility firsthand. How?
Turn off your computer speakers and try to access web-based video;
Turn off your monitor and try to access websites by hearing rather than sight;
Unplug your mouse and try to navigate websites with only your keyboard;
Remove semantic structure and try to understand website content.
Did you need help?
If you are unable to complete these tasks, your websites or web-based content may not be accessible for all audiences. To learn more about how to create accessible web content, please visit the Web Accessibility Group (WAG) website at wag.uga.edu.
For more information please contact the Access Office at PH: 229-245-2498, TTY: 229-219-1348, VP: 229-375-5871
Thank you for participating in Global Accessibility Awareness Day!