The 1940 Census is now available, and it's online, courtesy of the U.S. Census Bureau and the National Archives and Records Administration (NARA)!  Detailed census records–the actual census forms U.S. residents completed in 1940–are available for public view 72 years after the Census takes place. April 2 marked the 72nd "birthday" of the 1940 Census!
View how the United States is different today than in 1940–or not so different? With such detailed records now at hand, we can even see state-by-state comparisons between the years.
For getting started with your own 1940 census search, visit the official NARA site–but it's so popular right now that you might have to wait a bit! In the meantime, you can read this NPR story about the 1940 census release, and preview how Georgia's GALILEO system, through the ProQuest company, will enhance its Ancestry Library Edition database, available for use in genealogical research within Odum Library.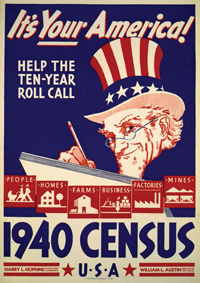 Uncle Sam, for the 1940 Census,
courtesy U.S. Census Bureau
If you'd like to "Uncle Sam Yourself,"  go try this app from the U.S. Census Bureau!