Over the past month, we have been collecting and analyzing data from our Fall 2010 Reference Services Satisfaction Survey.
We have changed the survey a bit, because the statement "I have a better understanding of how to evaluate information" did not apply to every question. Patrons and librarians alike were confused as to how to rate this statement when evaluation wasn't necessary for the reference question.
The three statements on this survey are the same ones we asked in previous Reference Services Satisfaction Surveys, and Reference Services users rated us on a scale of 1 to 5 (1 being "strongly disagree", 5 being "strongly agree").
I got the information I needed.
I have a better understanding of how to find information.
I am satisfied with the service I received.
The survey results showed that users were very satisfied with their Reference experience.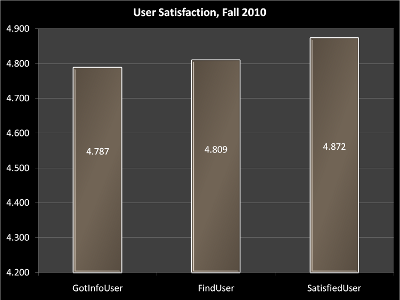 User comments were very positive overall, and included:
Great and fast help.
You guys are the best!
Great job (smiley face)
Out of 47 users, 39 were undergraduate students, 7 were graduate, and one was "other."
We also evaluated ourselves on our interactions at the Reference Desk: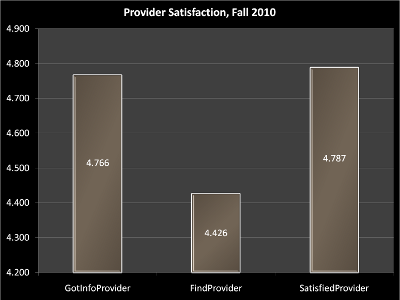 The data shows that we are mostly satisfied with how we help you overall (statement 3), but we would like to help you learn how to find information better in the future.
Out of 47 responses, 41 were from librarians, 4 were from Peer Reference Counselors, and 2 were from our intern.
We are always looking for new ways to improve our service here at Odum Reference, and we're also looking into improving how we evaluate our service. Please post a comment on the blog or Facebook if you have any ideas of how we could either serve you better or find out more about how we're doing!