An unveiling of artwork generously donated to Valdosta State University by Lynn and David Morley
Come and see the new Art in Odum Rembrandt-Dali Gallery on the second floor of Odum Library.  The collection features rare prints of the artists Rembrandt van Rijn and Salvador Dali. The Dali etchings are posthumous re-strikes of Rembrandt's original prints from the 17th century. The works by Dali are film prints created for the 1945 Walt Disney-Dali collaboration Destino, which was completed by Roy Disney in 2003.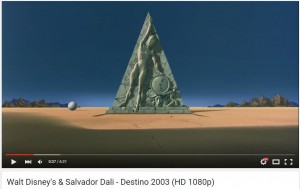 The six-minute short follows the love story of Chronos and the ill-fated love he has for a mortal woman named Dahlia.[1] The story continues as Dahlia dances through surreal scenery inspired by Dalí's paintings. There is no dialogue, but the soundtrack includes music by the Mexican composer Armando Dominguez. The 17-second original footage that is included in the finished product is the segment with the two tortoises (this original footage is referred to in Bette Midler's host sequence for The Steadfast Tin Soldier in Fantasia 2000, as an "idea that featured baseball as a metaphor for life") – Wikipedia.
Rembrandt van Rijn
Netherlands, 1606-1669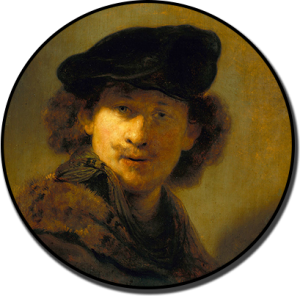 As the youngest son of a miller, Rembrandt van Rijn was free of the obligation to follow the family trade and was able to spend seven years in Latin school and go on to study at the University of Leiden, but soon left, according to his first biographer, because "by nature he was moved toward the art of painting and drawing"1. After three years of study with Jacob Isaacsz van Swanenburgh and six months tutelage in Amsterdam with the finest historical painter of that era, Pieter Lastman, he returned to Leiden and was soon sought after as a portraitist and history painter. By 1631 he established a studio in partnership with art dealer Hendrik van Uylenburgh,
who arranged commissions, and he also taught students as well. He married van Uylenburgh's niece Saskia in 1634; the couple had four children, only one of whom, Titus, survived infancy, and Saskia died in 1642, the same year he painted his most famous work, the large mural, Night Watch.
His life became increasingly unsettled. A house he had purchased in 1639 at the height of his success drove him into debt that eventually forced him into bankruptcy, forcing the sale of his estate, including his art collection. After his wife's death, he had taken up with his son's nursemaid, Geertje Dirckx, then dismissed her and became involved in 1649 with Hendrickje Stoffels, by whom he had a daughter, Cornelia, in 1654. Because they were unmarried, she was summoned before a council of the Dutch Reformed Chuch and censored for having "lived with Rembrandt like a whore"2, but they remained together until her death in 1663.
Both his domestic scandals and general changes in artistic styles, which did not focus on personal aspects of their subjects as Rembrandt did, affected his patronage. He received fewer commissions and no students are known to have worked with him in the 1650s, and only one in the 1660s. His assets declined further due to rejection of his work and the deaths of Hendrickje Stoffels and his son Titus, who had set up a business partnership to protect him financially. He died in 1669, and Rembrandt was buried in a rented grave, which has since vanished in Westerkerk, Amsterdam.
As an artist, Rembrandt had parallel careers as painter and printmaker, but he seldom depicted the same subjects in both media, and only rarely did he convert his paintings into prints.
He often used ordinary materials in unusual ways, and also experimented with his copper plates to obtain different printed images. He was also among the first printmakers to use various kinds of the newly available Asian papers to achieve different effects. As a result, he is still a highly important influence upon printmakers who are working today.
Wheelock, Arthur k., Jr. "Rembrandt van Rijn." National Gallery of Art. 2014. Web. 28 September 2015. <http://www.nga.gov/content/ngaweb/Collection/artist-info.1822.html?artobj_artistId=1822&pageNumber=1>
Ibid.
---
Salvador Dali
Spain, 1904-1989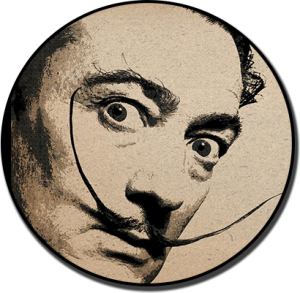 Salvador Dali was named for a deceased older brother whom he considered himself the reincarnation of and whose image he placed in his works. His parents recognized his artistic talent early and placed him in a private school where French became his primary language, and built him his first art studio. He had his first public exhibition in 1919 as part of a group show, and went off to Madrid to study painting at the San Fernando Academy of Art, but failed to graduate when he refused to be examined on the theory of art, stating the teachers were incompetent to judge him. He journeyed to Paris, where he met Picasso, Joan Miro, and Andre Breton, who exposed him to works of the Surrealist movement. And it was also during this period he grew the mustache that was his trademark, and wore for the rest of his life.
1929 marked the beginning of an eventful period in Dali's life. That year he collaborated with director Luis Bunuel in writing script of the film Un Chien Andalou, the film which is famous for its opening scene of a human eyeball being slashed open by a razor, and he also met Gala, the woman who became his lifelong inspiration, muse, wife, and business manager. At that time he was an important member of the Surrealist group in Paris, but they eventually broke with him due to his political beliefs in 1934. This did not impede his career, for several significant works were produced during this decade: The Persistence of Memory (1931), Rainy Taxi (1934), Lobster Telephone (1938), and the New York World's Fair Pavilion, Dream of Venus (1939).
When World War II broke out, Dali and Gala fled to the United States in August, 1940, where Dali spent the next eight years working in a variety of media that included designing jewelry, clothes, furniture, stage sets for plays and ballet, theater costumes, and retail store display windows. He also wrote catalogs for his exhibitions, published his autobiography, The Secret Life of Salvador Dali (1942), and illustrated at least four novels, including an edition of Don Quixote. His first major retrospective was held at the Museum of Art. His most famous works of this period, however, are his film collaborations with Alfred Hitchcock on the dream montage in Spellbound (1945) and with Walt Disney for the short film Destino (1946), which was not completed due to financial problems at that time, and remained unfinished until 2003.
After returning to his home in Port Lligat, Spain in 1948, his art reflected a more religious aspect in his nature as well as shock over the dropping of the atomic bomb at Hiroshima, described in his Mystique Manifeste (1951). He painted nineteen large, detailed murals depicting detailed scenes of religious, historical or scientific events, as well as paintings that illustrated his "Nuclear Mysticism" such as Leda Atomica (1949) and The Hallucinogenic Torreador (1970). His deepening religiosity led him to remarry his wife in the Catholic Church in 1958, and to honor her wishes for a separate residence in 1968—a castle at Pubol, Spain—which he could only visit with her permission.
His last years were filled with labor on creating the Theater-Museum Dali in Figueres, Spain, at the Municipal Theater of Figueres where he had had his first exhibition, from 1961 till its opening in 1974, and he continued to suggest improvements until 1980. Despite being showered with retrospectives and honors by the world, including the title of Marquis de Pubol from King Juan Carlos, he was beset by fears of losing his beloved wife, who was suffering from depression and senility. In 1980, she mistakenly gave him medication which caused his right hand to tremble uncontrollably and damaged his nervous system, which largely ended his career as an artist. Gala died in 1982, robbing him of his desire to live. After a fire broke out in his bedroom in 1984, friends intervened and took him back to Figueres, where he lived at the Theater-Museum until his death in 1989. By his own wish, he is buried at the museum in a crypt below its geodesic dome, while Gala is buried in a crypt in her castle at Pubol.
By Denise Montgomery, Odum Library