From August 22, 2014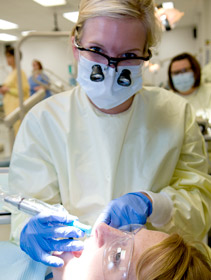 Sunrise Community of Georgia, Inc. is a non-profit organization that focuses on addressing healthcare disparities for people with disabilities.
As a component of its special needs training, the Dental Hygiene Program hosted Sunrise's District II Psychologist & Behavior Analyst, Kristin J. Korinko-Plyler, in August. Sunrise Community of Georgia, is very invested in the future sustainability of its local community and works on the Integration of providing healthcare for people living with intellectual and physical disabilities as well as accommodations for acquired disabilities like dementia and Alzheimer's are all important parts of respectful aging in place.
The educational seminar was on behavior management of people with developmental disabilities. Behavior management is used to better understand and positively respond to an individual's challenging behavior in the least restrictive manner possible. Positive Behavioral Support (PBS) is an empirically validated, function-based approach to eliminate challenging behaviors and replace them with pro-social skills. The Dental Hygiene Program will begin seeing patient's referred from Sunrise Communities this Fall to provide preventive dental services.