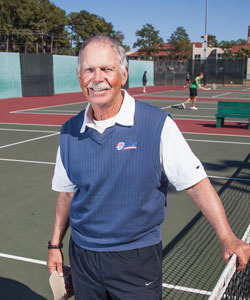 Growing up, John Hansen's life could be compared to that of a nomad moving from city to city with no permanent dwelling place.
The son of a Marine pilot, Hansen's family moved 32 times before he graduated from high school in Gainesville, Fla.
After a few years at the Naval Academy, Hansen was on the move again and in 1970 found himself in Valdosta, Ga.
"I was living in Tallahassee and really not doing anything, so I basically followed a girl here," said Hansen, who serves as Valdosta State's head tennis coach. "She is gone, and I have been here more than 40 years."
Hansen graduated from Valdosta State College (VSC) with a bachelor's degree in marketing and played tennis under coach Red Sikes Caraway.
While working on a master's in education, Hansen was asked to coach the men's tennis team. The 25-year-old never dreamed this was the start of a 40-year career.
During his first years of coaching, VSC was in the Georgia Intercollegiate Athletic Conference and played against
larger schools, including the University of Florida, Florida State University, the University of Georgia, and the University of Cincinnati, which was ranked ninth in the nation.
With two NCAA Division II national championship titles, three runner-up finishes, and 20 conference championships, it is easy to see why Hansen was recently recognized by the State of Georgia for his illustrious coaching career.
In a special presentation honoring Hansen's 40 years of coaching, Lt. Gov. Casey Cagle signed a proclamation recognizing Valdosta State University's longest tenured coach for his "leader- ship, integrity, and caring for the many student-athletes he has coached and taught, instilling in them the principles of humility and good sportsmanship."
With more than four decades as a student, coach, and teacher, Hansen is quick to share that first and foremost he is a Blazer fan. "I am a Valdosta State guy first and tennis coach second," said Hansen, who became the women's tennis coach in 1980. "I love Valdosta State. There are so many memories, obviously becoming a university and when Coach Tommy Thomas won the first national championship [baseball] for the school. I have never seen this community come together more for the college. I think this is when people first realized we could compete on a national level."
Hansen has fond memories of the two national championships for the men's tennis teams in 2006 and 2011.
The first championship game was played in Kansas City, Kan., against Lynn University. The Blazers had been contenders for the national title several times before the 2006 win.
"I told myself this will be very nice, but it won't be a big deal," Hansen said. "But I was wrong. When we won that last point, it was a tremendous feeling."
Five years later, Hansen and the men's tennis team found themselves in Orlando, Fla., vying for the championship win. "The second championship was different; it was just as exciting but so much fun because of all the people from Valdosta who came to watch. In Kansas City was just us,"  Hansen said. "There were at least 50 Valdosta State fans, far more than any of the other teams had."
The fans are an important part of the success of any athletic program, and Hansen has witnessed the growing number of Blazer supporters within the community.
"You can see it changing. As we grow, our following will grow with us," said Hansen, who is a member of Valdosta State University's Athletic Hall of Fame.
A legend in tennis, Hansen was named the Intercollegiate Tennis Association's National Division II Coach of the Year in 2000 and 2010. He was named the South Region Men's Coach of the Year in 2004, 2006, 2008, 2010, and 2011. He added the South Region Women's Coach of the Year award in 2005, 2007, and 2008.
In addition to his professional accomplishments, Hansen's players have received national recognition. He has coached 63 All-American players and has had an athlete named All-Gulf South Conference 148 times — 74 men and 74 women.
"Best thing I have enjoyed is getting to know the players who came as kids and left as adults," said Hansen, "to see where they are, what they have accomplished. We have players all over the world."