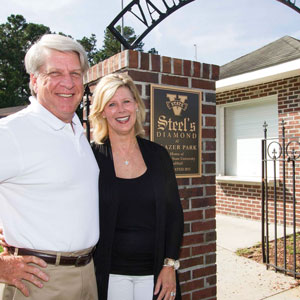 Longtime friends of Valdosta State University, Chuck and Susan Steel believe in the importance of education and the benefit of having a regional university within their community.
The owners of Steel's Jewelry have been generous contributors to VSU for many years, sponsoring various sporting events and recognition programs for student-athletes and donating auction items for the annual scholarship gala and athletic fundraising events.
Recently the university paid tribute to the Steel family by naming the softball field "Steel's Diamond at Blazer Park." The softball field is located on VSU's north campus.
"When we were approached about helping the softball team, we were honored and delighted to partner with them," said Susan Steel. "The fact is that there needs to be more support for women athletes. They are a team of hard-working ladies, and their titles speak for themselves. Their dedication is not just to athletics but also to their studies. VSU and our community have a lot to be proud of."
The Steels have been actively engaged in the Valdosta community for many years and are annual sponsors for the America's Second Harvest Duck Derby, which helps raise money to fight hunger. They also support the Valdosta Symphony Orchestra, Annette Howell Turner Center for the Arts, Boys and Girls Club of Valdosta, and the Children's Advocacy Center.
"The stronger VSU becomes, the stronger we all become," said Susan Steel. "VSU is empowering young men and women with the knowledge that they will in turn pour into our community. Graduates teach our grandchildren, nurse our aging parents, take care of much of our technology, and bring the arts to life, among other vocations. When we give them the best chance to equip themselves, whether it is within the discipline of sports or academics, everyone prospers."
The Steels also have a family connection to VSU. Their daughter, Elizabeth Oliver, is a graduate, and their daughter-in-law, Nicole Steel, also is an alumna. In addition, the Steels employ many VSU graduates and students.