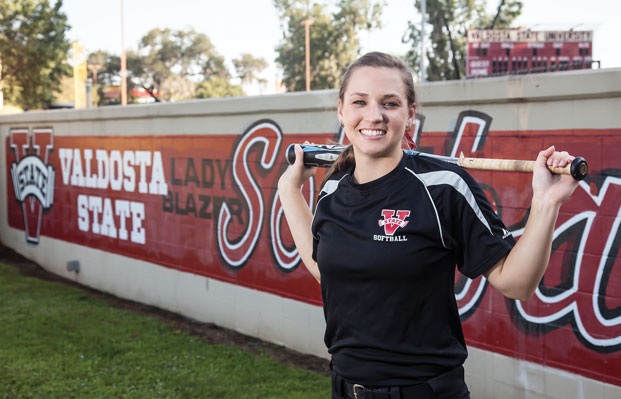 When Morgan Johnson came to Valdosta State University in 2009, she had a plan. She wanted to play softball and major in nursing. However, Johnson was cautioned that trying to play softball with such a strenuous major as nursing would be difficult.
"I was told repeatedly that it was going to be very hard to do both," Johnson said. "But I didn't want to stop playing. I didn't want to have to choose."
Not only was Johnson able to play softball while pursuing her nursing degree, but she also excelled at both. Johnson was named to the Capital One Academic All-America team as well as to the Gulf South Conference's (GSC) All- Academic Team with a 3.66 grade point average.
She helped the Blazers secure the first GSC softball national championship title, as well as the first national softball title for Valdosta State.
Both softball and nursing have played important roles in Johnson's life since she was young. Johnson, who grew up in Macon, Ga., has played softball since the age of 5 and was inspired by her parents, who are in the medical profession. She realized her desire to become a nurse when she was in the ninth grade.
"My dad is a doctor and my mom is a nurse," Johnson said. "My dad would ask if I wanted to go the hospital with him. If I didn't understand something, he would draw me pictures. It was really cool."
It was the nursing program that eventually brought Johnson to Valdosta State.
"I had gotten offered to play softball here, but I'd already applied to Auburn," Johnson said. "I decided to visit here and noticed how proud they were of their nursing program. I ended up loving it."
Head Coach Thomas Macera recruited Johnson because he saw the potential in her to achieve great things.
"She's a hard-working kid," Macera said. "Plus, she is humble. She is not the kind to get a big head, and I think that is what keeps her doing so well."
On top of all of her other achievements, Johnson manages to participate in community service projects. She conducted free softball clinics, helped organize the VSU Softball Blood Drive, the second largest blood drive in South Georgia, and volunteered at the Storehouse Ministry feeding the homeless.
With a hectic schedule, it comes as no surprise that Johnson sometimes feels overwhelmed.
"Sometimes I wonder if I've taken on too much responsibility," Johnson said. "It's particularly hard when during a strenuous period of softball; I just try get use to a specific schedule. The structure helps."
For the difficult times, Johnson has developed a simple way of staying motivated.
"I don't like not being good at things," Johnson said. "In the clinical setting, not knowing something is embarrassing, and softball is all about finding the time between homework, clinical, and class. I always put the effort into making whatever I'm doing the best it can be."
This determination is what led Johnson to being selected as one of the GSC top 10 student-athletes for the 2011- 2012 academic year. She also received the prestigious GSC Commissioner's Trophy, given annually to the top male and female athlete within the conference. Johnson was recognized for her outstanding season performance and contributions to the Blazers' national championship win.
"I didn't really know much about the trophy in the first place," Johnson said. "Actually getting to go to Birmingham and then receiving the trophy on top of that was a lot at one time. Of course, my family was really excited."
Macera was also proud to see John son receive the Commissioner's Trophy.
"It's all you can pray for really," Macera said. "You always hope to see every girl achieve that well."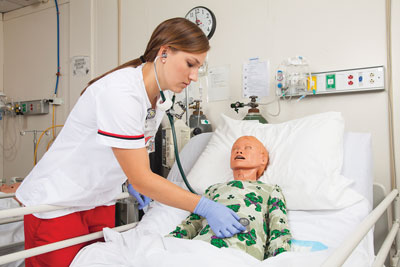 Johnson admits that her busy schedule leaves little room for social time.
"Honestly, most of my friends are on the softball team," Johnson said. "But I have developed better relationships with nursing school friends. Twelve of us went on a trip to Nicaragua and came back with a lot closer bond than we had before."
The trip to Nicaragua was a study abroad trip with Denise Atkinson, a board certified family nurse practitioner and nursing instructor, for her Trans-cultural Nursing Care class. The group attended daily classes, toured hospitals and medicinal plant farms, along with hiking canyons and swimming.
Atkinson said she was impressed to see Morgan step up to a leadership position during the trip.
"As much fun as traveling is, it can also be a huge stressor," Atkinson said. "I was thrilled to see Morgan handle herself in such a mature, gracious manner in the face of many stressful situations—airport security, lack of amenities at times, lack of sleep, and strange food."
The group also assisted the Emergency Response Services of Latin America with follow-up surveys for water filters provided to local citizens, helping them to understand exactly how different health care systems work.
"It was a good experience for me," Johnson said. "It made me appreciate what I have, and I met such gracious and generous people. A lady literally took her earrings out of her ears and gave them to me, just because I told her that I liked them."