Valdosta State University's innovative efforts to improve access and college completion for adults has earned the university national recognition from the Council for Adult and Experiential Learning (CAEL).
"An engaged and innovative university is one that is flexible and able to meet the needs of many different kinds of students, in a multitude of circumstances," VSU President William J. McKinney said. "I am so proud of VSU's leadership in the education of returning adult students and honored to have been recognized nationally by CAEL."
"CAEL values the efforts of Valdosta State University to create educational opportunities for working adults and other traditionally under served populations and is proud to recognize the ongoing accomplishments of the institution with this year's Institutional Service Award," said CAEL President and CEO Pam Tate. "We are particularly appreciative of Valdosta State's pioneering efforts in Prior Learning Assessment (PLA) and the service of Jerry Merwin on our national LearningCounts.org Task Force."
In selecting Valdosta State, CAEL representatives stated, "For many years, VSU has worked with regional military bases to serve their needs, and facilitating educational opportunities for active duty military and veterans continues to be a priority. Their desire to value the experiences, perspectives and learning acquired during military service led them to develop numerous programs focused specifically on the adult learner. VSU has not only been exemplary in providing services to its adult learners but has opened doors for adults throughout the state system."
Serving Adult Learners
To help the growing number of adult learners earn a college degree, VSU established the office of Adult and Military Programs (AMP) to improve degree completion for adult learners with particular attention to members of the military and veterans.
"We have national data to support that many adult learners are returning to college. There is a periodic trend that occurs with economic ups and downs. When the economy is down the people want to go back to school to keep their current job or look for a new one," said Dr. Jerry Merwin, director of AMP. "However, I think it goes beyond that. There seems to be a growing awareness in our country that having a college degree is more of a necessity than it has been in the past." VSU has a history of serving adult learners. In 2009, the University System of Georgia (USG) appointed Valdosta State as the lead institution to work with two- and four-year public institutions as part of the Adult Learning Consortium (ALC).
The ALC, comprised of 13 USG institutions, works to improve services and programs for adults who have returned to college to earn a one-year certificate, an associate's or bachelor's degree.
According to Dr. Patricia Paterson, co-director for the USG's Adult Learning Consortium (ALC), the primary focus of the ALC is to facilitate college completion of adult learners.
"We are proud that the lead institution in the ALC is receiving this honor. This national award recognizes the leadership of Valdosta State and the ALC as well as the innovative efforts of the entire USG in adult college completion."
CAEL also recognized VSU's leadership role in advocating PLA implementation throughout Georgia's public colleges and universities.
Part of a nationally recognized process, PLA allows a student to earn college credits from work experience, professional training, military service, and other professional certificate programs. These experiences are presented in a portfolio that contains sufficient support information and documentation.
Valdosta State developed a training and awareness program to explain to faculty the validity of the PLA process and demonstrate that credits would be awarded only if the learning outcomes were verified as college-level. Additionally, VSU has been instrumental in developing a network of faculty assessors across the state and in providing resources for institutions which seek to develop their own PLA programs.
According to Merwin, in an effort to identify areas where the university could improve services and programs for adult students, VSU also administered surveys to both adult learners and faculty.
"The results of the surveys helped us develop a program that is more responsive to the needs and concerns that are priorities of adult learners," said Merwin. "We have expanded our efforts in recruiting active duty military and veterans, as well as adults who have some college credits but have not yet earned a degree."
The survey also identified concerns from adult learners regarding the time and day courses are offered. Valdosta State addressed this issue through the implementation of online undergraduate degrees specifically designed to meet the needs of working adults, military members, and students at two-year colleges and technical schools who are often unable to move to communities with a college or university.
As part of its outreach to adult learners, especially active duty military and veterans, Valdosta State now offers undergraduate online degrees in organizational leadership, office administration and technology, criminal justice, and legal assistant studies. These programs offer flexibility and accessibility for working adults who want to earn a bachelor's degree.
Judy Wertheim, CAEL's vice president for Higher Education Services, noted that VSU's development of online courses was "specifically designed to meet the unique needs of full-time professional, military personnel, working parents, and other adults juggling multiple responsibilities."
In presenting the award, Wertheim said, "CAEL and adult learners across the state of Georgia are grateful for VSU's continual efforts to open doors and unlock opportunities to earn a college degree."
****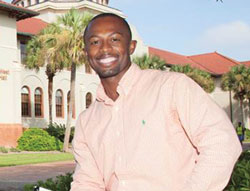 Setting priorities is a key to Michael Anderson's success as a college student. He first attended college more than 15 years ago; however, now the father of four has a greater appreciation of a college degree.
"Going back to school means everything to me as a father. I know that my children will have a greater chance of being college graduates and being successful if I graduate from college," said Anderson, who has aspirations to run for public office in the future. "I want to raise leaders in my house. I believe going to college is a good start for them, and it is better for our community."
While working full time as general manager of The Valdosta Vault, Anderson believes that completing a college degree is the single most important goal a person can have.
"Finishing school will play a big factor on how you live your adult life," said Anderson. "Coming back to school has helped me. I'm more in tune to what is going on in my life and the importance of a college degree. I also better understand myself and what I want out of life."
Anderson, who is scheduled to graduate in May, gives credit to Valdosta State's AMP staff and his instructors with helping him achieve his college success.
"The AMP staff helps keep you motivated to finish," Anderson said. "The instructors understand the struggle and they go the extra mile to make sure you understand the information."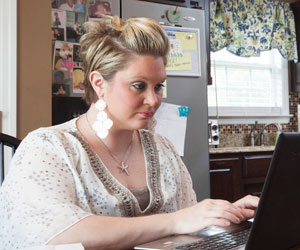 Brooke Starr knows the importance of a college degree. At a crossroads in her professional career, she enrolled in Valdosta State University's Workforce Education and Development program.
An instructor in Wiregrass Georgia Technical College's cosmetology program, Starr credits VSU's Adult and Military Programs (AMP) with helping her work toward a college degree.
Starr, who wanted to make a difference in her life and be a positive role model for her daughter, Brooklyn, found out about Valdosta State's AMP program and was impressed with the encouragement she has received throughout the process.
"I loved the weekend format. It was perfect for me, the professors were great, and the class sizes were small," said Starr. "I have never had teachers that were so invested in me, not just teach me but motivated me."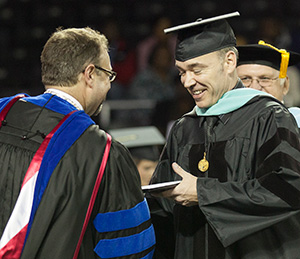 When David Ross started back to college, there was no stopping him. In 2004, he received a bachelor's degree in technical trade industry and two years later a master's in adult and career education, all while serving in the U.S. Air Force. During his military career, Ross realized he wanted to become a teacher and that he needed to continue his education.
After retiring from the Air Force, Ross began working as the director of Valdosta State's Moody Air Force Base campus, where he coordinates classes for the Master of Public Administration and bachelor's degree in workforce education. He also helps active duty military members enroll in other programs at Valdosta State.
"I enjoy meeting new people and building friendships," said Ross, who received a doctorate in adult and career education, his third degree from Valdosta State. "I get satisfaction assisting students in obtaining their educational goals. It is exciting to hear their life stories and the reasons they are returning back to college."
He encourages adult students to set goals and start with small objectives.
"Never stop pursuing education," Ross said. "Take full advantage of every educational opportunity. Don't be afraid to take risks. Don't get in a rush to finish, take your time, and enjoy the process."