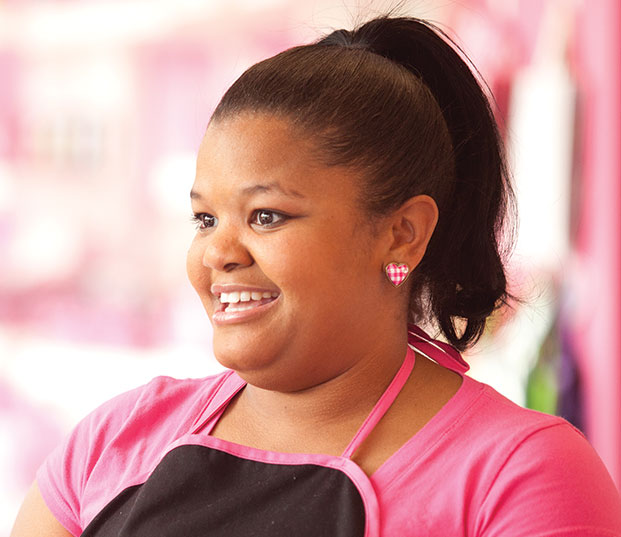 "Struggle does something for you. When you are willing to do whatever it takes for your business, that's how you make it."
Entrepreneur Tiffany Young delivered this message to fellow businesswomen during the third annual Women in Business Symposium at Valdosta State University. Owner of Pink Pastry Parlor and star of the reality television show "Party at Tiffany's," Young shared the story of how she went from bussing tables to starting her business, which now has three locations in the Greater Atlanta area.
Young graduated from Valdosta State University and began a blossoming career in pharmaceutical sales. After four years, she was laid off from her six- figure job, forcing her to lose her house and car.
"I could've stopped when I lost my house, but I kept going," said Young. "I bussed tables for a year to earn the money I needed to start my business. I like knowing that this success wasn't given to me. Because of that, I have a greater story."
Young added that success in a business comes with the right vision, money and attitude, and asserted that one must sell themselves along with their product or service.
"You have to take your business so seriously that you are willing to do anything for it. You also have to have people around you who see your vision.
Anyone in your life has to be invested in you."
Young's mother, Corcetter Johnson, watched from the audience in tears as her daughter delivered her keynote address encouraging women to meet opportunity halfway.
Young's presentation was one of several empowering and educational activities provided during the symposium. Attendees benefited from an hour-long human resources panel discussion as well as a business expo and power networking. The event also included breakout sessions with Rita Suiter, owner of FiveStar Customer Service Strategies, and Joey Broadwater with the Center for Physical Rehabilitation.
With women at the forefront of the business world, the Small Business Development Center (SBDC) at VSU created the Women in Business Symposium to allow businesswomen to assemble for a day of education, empowerment and enlightenment.
"There is so much competition among women in business, but there are also many opportunities for all women to thrive professionally if support is shown," said Ruby Riesinger, SBDC area director and business consultant. "This event is held to bring businesswomen together and promote support for each other. It also satisfies an initiative of the Small Business Administration to reach out to certain interest groups in business."
The event was sponsored by Georgia Power, the Georgia Small Business Development Center, and the VSU Langdale College of Business Administration.