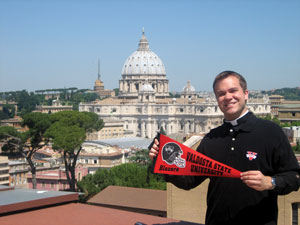 Valdosta State University graduate Rev. Jason Adams became an ordained priest for the Diocese of Savannah on Saturday, June 30, 2012, at the Cathedral of Saint John the Baptist, Savannah. Adams is a recent graduate of the Pontifical University of St. Thomas Aquinas (Angelicum) in Rome, Italy.
"My call to the priesthood began with testing the will of God in my life against what I wanted for my life and discovering that God always wins," he said.
Adams grew up in Cordele, Ga., as a fifth-generation Catholic, but he did not initially consider going into the priesthood. Although he knew he wanted to help people in some way, his early career goals included becoming a lawyer and possibly one day holding elected office. He graduated VSU in 2006 with a Bachelor of Arts in political science and a minor in religious studies.
"Without a doubt, VSU helped give me the tools needed to stay grounded in Rome," he said. "From my political science and religious studies courses, I learned how to talk and interact with others who come from different cultures than me and appreciate where they came from. Being involved in the Emerging Leader program helped me form good leadership characteristics and develop the virtues needed now to be a good priest. I learned how being yourself and sincerely serving others transcends all language and cultural barriers."
It was while living at the VSU Catholic Newman Center that Adams started to have thoughts of a different career path. Through the influence of others at VSU and time spent at a discernment retreat in Augusta, Adams decided to attend seminary at Mount St. Mary's in Emmitsburg, Md., to discern whether or not God was calling him to be a priest.
After two years at seminary, Adams was confident in his decision to follow the calling into priesthood and began theology studies in Rome, Italy. Before his formal classes started, he, along with many other seminarians, spent four weeks in Assisi learning the food and culture. During this transition period, he also spent 30 minutes to an hour each day in prayer.
"Looking back over the last six years since I graduated from VSU, I am thankful for the experience and the education I received," said Adams. "Having studied theology in Rome, Italy, for four years, I was able to travel to many different places and observe and interact with others of faith."
While in Rome, Adams attended the English speaking school known as The Angelicum, where the teachers are mainly Dominicans. Adams was able to meet many interesting people during this extraordinary experience. Pope John Paul II was an alumnus of the school, and the Pope's personal theologian taught Adams moral theology and Christian virtues. Mother Teresa's spiritual directors also taught him spiritual theology.
"Having now been ordained a Catholic priest as of June 30, 2012, I now look to live out my dream of being a holy priest in the Diocese of Savannah, Ga., thanks to the education I received at Valdosta State and the life experiences shared while in Rome, Italy," said Adams. For more information about Rev. Jason Adams, visit www.diosav.org.