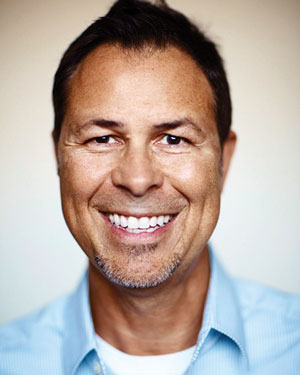 Joseph Uliano,'81, went from college days at Valdosta State College to working with some of the most popular names in music, including Bob Dylan, Dave Mathews, Faith Hill, Guns n Roses, and Lil Wayne, among many others. Uliano is now an executive producer for the media production company Wondros out of Los Angeles, Calif.
While at VSC, Uliano was the general manager of WVVS, played guitar in the Jazz Ensemble, and participated on the Debate Team one year. His major was theater arts, which was called radio tv film at the time. During Uliano's college years, he wrote music for a few of the theater productions and played in various bands at Hoagies, Long Branch Saloon, the Knights of Georgia, the American Legion, and other local spots.
Uliano did not start out a film genius. The first time he shot film in Dr. Anthony Oseguera's class it all came back black with no picture. He had to show it in class the next day, and Dr. Oseguera asked him what it was. He thought on his feet and said it was a day in the life of a blind man, which awarded him a C for creativity and the chance to do the assignment over.
He has come a long way since that class by producing some of the most watched music television in the world, from live concert events to documentaries to music videos.
"Being a musician and a filmmaker, it was a pretty natural thing to marry the two," said Uliano, who launched a lifestyle brand, Gorgeously Green, with his wife, Sophie. "I've always been fascinated with the relationship between music and moving pictures."
The Dublin, Ga., native moved to Los Angeles to attend the American Film Institute for his master's degree and started making music videos for up-and-coming artists in between class projects.
"It was the next best thing to being in a band, and I got to hang out with other musicians," he said. "I met REM, MC Hammer, NWA, Tom Petty and started making videos, and from there I ended up starting a company in my living room, which then grew to be a business that worked with all of the major record labels."
When asked if he has a favorite music video out of all that he has produced, he compares it to asking who is your favorite child.
"I have several favorites for different reasons, and I am blessed that it is a long list," said Uliano, who considers his greatest body of work to be his daughter, Lola. "Some are for the video itself, and some are for the experience that I had making them."
His most recent list includes The Black Keys' "Lonely Boy," The Foo Fighters, Faith Hill, Bruce Springsteen's "Lonesome Day," Lil Wayne and Bruno Mars' "Mirror," Bob Dylan, Dave Mathews, U2, Metallica, and Lady Antebellum.
Uliano says that every situation is different when working with artists. There is generally a bond when coming together for a short time and working intensely with very creative and focused artists.
"Some are easy; some are not," he said. "But we all share a common value of a love of music."
In his limited spare time, Uliano guest teaches a class or two at the University of California – Los Angeles, the University of Southern California, or at film festivals around the country to discuss "exit strategy" with film and media students to get them thinking about leaving the academic environment and entering the professional world. He is a firm believer that it is a very important thought process that schools do not always teach.
Uliano also co-owns the Hollywood hotspot and eatery IL SOLE on Sunset Boulevard, which was picked as the "Oscars Hot Spot" by Good Morning America.
For more information about Joseph Uliano, visit his website at www.josephuliano.com