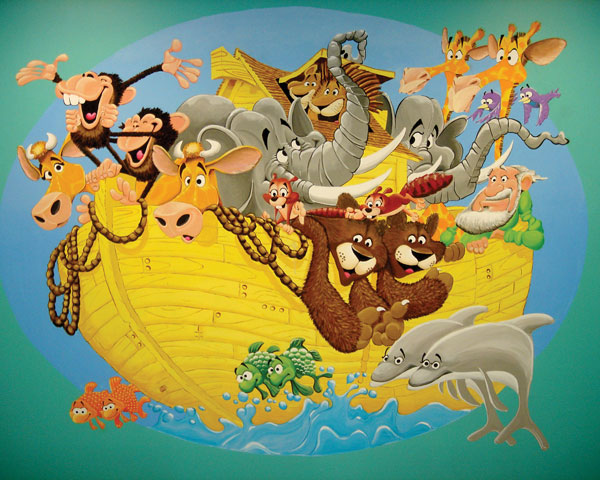 Lee Mobley, '98 and '01, is not your average elementary school principal. He is also an up-and-coming chalk artist.
About 10 years ago, while on a family vacation, the Broxton-Mary Hayes Elementary School principal passed through a small Florida town a few days after a street painting chalk art festival. The images from the sidewalks and streets stuck in his mind.
Then, last year, he became curious about the street art again and began to search the Internet for information. He found a site that connected street artists and informed them of upcoming events. He found an event in North Florida that would accept "newbies" to participate.
"I was very nervous going into the event because I was completely unaware of any specifics of the process of street painting," said Mobley, who earned both his bachelor's and master's degrees from VSU. "What I soon found out was that the family of 'street artists' were very welcoming and supportive of a newcomer. We had a wonderful time at this event and were blessed to win Best in Show with my 'Pinocchio' painting. Since this event I have been hooked on the artform and have continued to participate in events in Florida."
In 1998, Mobley began his teaching career at Lowndes High School, teaching drafting and design. He transferred to Coffee County in 2001 accepting a position as an assistant principal at West Coffee Middle School. Then, in 2008, he accepted the position of principal of Broxton-Mary Hayes Elementary School.
"I love being able to make an impact in the lives of the young people of our county," said Mobley. "Being able to work in an elementary school allows me to be a major influence in their lives as they are beginning to build their character as students and citizens. Not many people can say that they truly love their job, but being able to serve as an educator in Coffee County has been an extremely rewarding experience that I love."
Next to his love for children is his love for art, which has been a passion of his for as long as he can remember.
"I have always loved art and creating things," said Mobley. "Beginning at a young age, I always drew and sketched things that I saw or imagined. Through high school I focused on drawing as my primary creative outlet. In my mid-twenties I began to spend some time experimenting with painting and more recently have focused on large-scale murals. My newfound love is street painting, and I hope to continue to hone my skill as I participate in more events."
In November 2012, Mobley participated in the Sarasota Chalk Festival, which is considered to be one of the most important contemporary street painting venues in the world. The event hosts over 200 of the most renowned street artists in one location with 200,000 visitors attending.
Mobley's favorite chalk art piece of all time is "Lego Army" by Leon Keer, which was created during the 2011 Sarasota Chalk Festival. Of his own works, his favorites include "Pinocchio" and "Volkswagen Bus."
When Mobley isn't surrounded by elementary school students or letting his creative juices flow, he enjoys spending time with his wife, Holly, two daughters, Sands Lee and Nallee, and son, Ridlee. Mobley also actively serves in ministries through his church. 
To see more of Mobley's work, visit www.337designs.com