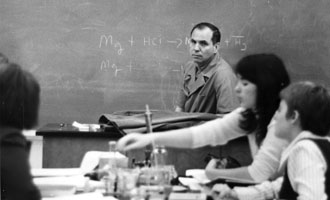 Barney Purvis (1933-2005), lifelong teacher and Valdosta State College (VSC) alumnus, dedicated his life to his education and his students.
Purvis earned a bachelor's degree in science from VSC in 1955 and a master's in secondary education in 1971.
Purvis was a high school teacher and taught biology, anatomy, chemistry, advanced chemistry, and physical science at Irwin County High School for 15 years before accepting a faculty position at Valdosta State.
Karen Luke Jackson, VSC alumna, along with other students inspired by Purvis, has established a scholarship in memory of Purvis.
"When he died, I just felt the need to mobilize a bunch of his former students," said Jackson. "Many of us would have never gone to school or gotten scholarships without him. He was the inspiration for a whole generation at Irwin County High School."
The scholarship, established through the VSU Foundation Inc., will be awarded each year to an Irwin County High School student attending Valdosta State University.
"The link is between his alma mater, the high school where he taught, and then he finished his career teaching at VSU," Jackson said. "It just made sense to do a scholarship at Valdosta State for an Irwin County High School student."
During his time at Irwin County High School, he received several recognitions, including being named STAR Teacher by seven of his students. These students were the starting point for Jackson to obtain donations for the scholarship.
"He had such a wide influence on students, so I wanted to make sure the scholarship wasn't just from me," Jackson said. "I started with all of his STAR students and then students who worked with Purvis on their science projects for the state fair."
According to Jackson, Irwin County High School students excelled at state science fairs, something she attributes to Purvis' determination to see his students succeed.
"He never gave up on any student," Jackson said. "He believed in us more than we believed in ourselves and would not accept less than the very best from us."
In a letter to the VSU Foundation, Kathy Sumner Yarborough, who named Purvis her 1970 STAR Teacher, wrote, "I was privileged to have had Barney for four years at Irwin County High School and again for freshman biology his first year at Valdosta State. I must tell you, he was harder and more demanding in high school!"
Jackson also remembers Purvis being an influence outside of the classroom as well, contributing his time to community activities.
"At Christmas, he made decorations for his house," Jackson said. "He put all the names of the children on his street on snowmen in front of his house."
Jackson credits Purvis not only with helping her to succeed in high school but also with the decision to achieve her degree at VSU.
"My parents always said going to college was okay, but Purvis said it was essential," said Jackson, who works for the Center for Courage & Renewal in Seattle, Wash. "He highly recommended VSU because he had graduated from there. I am so thankful that he pointed me in the direction of Valdosta State. It was truly the place that I found my voice and hit my stride. I credit Mr. Purvis for continuing to encourage me and a whole generation of students to take that step to enlarge our world."
Al Dorminy, a former student at Irwin County High School, remembers his biology and chemistry teacher as a great educator.
"Ours was a small rural school, but fortunately we had some excellent teachers in key disciplines. Mr. Purvis was one of them," said Dorminy, who is co-owner of a commercial real estate investment company in Atlanta, Ga.
"As time passes, my valuation of his gift of knowledge and my admiration for his character sincerity continues to grow. His skill, character, and breadth of knowledge are rare and priceless."
To make a gift to the Barney Purvis Scholarship, please send check or money order to the VSU Foundation, 1500 N. Patterson Street, Valdosta, GA 31698. Please indicate on the memo line that the donation is designated to the Purvis Scholarship.