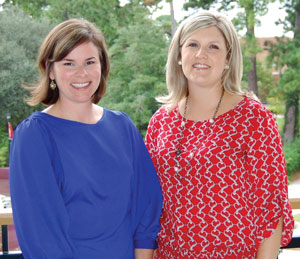 Two VSU graduates, Caroline Bowman, '99 and '01, and Lea Lanier, '01, are the proud co-owners of The Therapy SPOT in Statesboro, Ga.
It all started in 2007 when a few area therapists came together when they recognized the need in the community for quality pediatric therapy services. They put their creative juices together and formed The Therapy SPOT, which is an acronym for speech, physical, and occupational therapy.
"Our vision for many years was to provide speech therapy services to children and adults in our community, as well as the surrounding counties, but we soon realized that physical and occupational services were a missing link for many of the children we served," said Bowman. "That is when we knew that we had to expand our business to include these services."
Since that time, their clinic has since doubled in size, complete with a sensory gym, office staff, and six therapists. Two additional VSU graduates have joined the team as speech-language pathologists, Brooke Chance, '09, and Jamie Linder, '11.
"I think it says a lot for VSU's program that the first speech pathologists that we hired to work for us were also VSU graduates," said Bowman.
Bowman and Lanier are both grateful that their days at VSU led them to co-owning a successful, well-respected private practice. The Therapy SPOT has become a trusted referral source for area physicians and parents alike.
"We know that parents want to see their children become the best that they can be, and with that in mind, we aim for big results," said Lanier. "We have a love for children and a love for what we do. Our clinic is filled with cheerful chatter, and our halls and therapy rooms and waiting rooms are adorned with some of our favorite inspirational and encouraging art and quotes."
Therapists frequently attend training to educate themselves on the latest and most effective treatments available to make therapy as fun and effective as possible.
"We love to get involved in our community and have a special love for children with special needs," said Lanier. "We frequently help sponsor and volunteer to help with community events, particularly those that help children with special needs."
Above all else, their passion is helping others. They recently helped with a mother-son luau to benefit the autism program in the local school system and helped sponsor a 5K run to help a local child with special needs receive needed medical care. They have also volunteered their time to help with a local support group for parents of children with special needs.
Bowman and Lanier are both VSU graduates with a common love of children and giving back to their community. Bowman received both her undergraduate and graduate degrees at VSU, and Lanier received her master's degree at VSU after graduating from the University of Georgia.
While at VSU, they both said their professors were wonderful and welcoming. Even now, they keep in touch with a professor for helpful suggestions when they have questions about a patient or specific treatment.
"I remember very early on in life my vision for the future was to have a job where I helped people," said Bowman. "Being an undergraduate and graduate student at VSU helped me realize that dream. I had so many wonderful professors and supervisors. There are many pearls of wisdom that I still remember hearing from my professors, but I have to credit Dr. Ruth Stonestreet for being the most influential professor, supervisor, and mentor during my four years in the communication disorders program."
"I have fond memories of living in Valdosta," said Lanier. "I remember eating at Mom and Dad's Italian Restaurant and loving Mossimo's cheesecake!"
Bowman and her husband, Kevin, have been married for 15 years and have two children, Carter, 6, and Madeline, 2. Her hobbies include gardening, cooking, scrap-booking  and volunteering at the local pregnancy center.
Lanier has been married to her husband, Jason, for 10 years, and they have two "sweet and spunky" boys, Hudson, 7, and Henry, 4. In her free time, she enjoys running, being outdoors, gardening, reading, and shopping.
The Therapy SPOT is currently hiring full-time or part-time speech-language pathologists and physical therapists.
To find out more about The Therapy SPOT, visit www.therapyspotstatesboro.com.