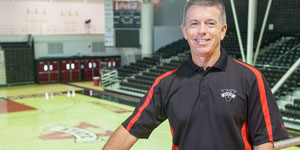 Valdosta State University has appointed Mike Swan, a 27-year veteran in collegiate coaching ranks, as head coach of the Blazer volleyball team.
Swan comes to VSU from the University of Evansville, where he served as head volleyball coach since 2003. During his 10 seasons at the Division I institution, Swan tallied 124 victories and twice led his team to postseason play.
Swan's volleyball coaching career began in 1979, after graduating from Manchester College, when he was hired to teach English at Southwood High School in Wabash, Ind.
"The teaching job required that I also coach volleyball and basketball, as well as [teach] English," said Swan. "I had no idea or even thought about coaching when I was in college…but it has developed into something really good."
To help enhance his coaching skills, Swan began attending volleyball clinics at Ball State University, where he met legendary volleyball coach Don Shondell.
"Coach Shondell, who is regarded as a pioneer in men's volleyball, took me under his wings, and I just kept coming back to more clinics," said Swan. "I also traveled throughout the Midwest participating in clinics."
His volleyball career began to flourish, and after six years of coaching high school volleyball, where he directed his team to a 115-37 record, Swan took his first collegiate coaching position at Huntington University.
Competing in the NAIA ranks, Swan led the Huntington team to postseason play all eight years, and the teams were conference champions with undefeated records seven years. Swan also earned conference Coach of the Year honors for seven years.
Swan spent five years at Morehead State, where he accumulated 82 wins and was named the Ohio Valley Conference Coach of the Year in 2001, after a 23-10 season, one of four years he led the team into postseason play.
During his time at Morehead State, Swan's emphasis on academic success was evident as he directed his team to receive the American Volleyball Coaching Association (AVCA) Academic Excellence Award in four of his five seasons.
Swan, who has coached at nearly every level of collegiate volleyball, has built successful programs at the NAIA and NCAA Division I, II and III levels. During almost three decades as a volleyball coach, Swan has totaled 520 victories, which currently ranks 29th in victories among active coaches in Division I volleyball. Eleven times in his career, his teams have won 20 or more matches in a season. Swan has directed a team to postseason tournament play on 15 occasions.
The opportunity to relocate to Valdosta State was appealing to the Indiana native, who was first in his family to attend college.
"Anyone who knows anything about athletics has heard of Valdosta State and its success. This was the first intriguing thing about coming to VSU," said Swan. "The second reason was location. I have lived in Indiana, Massachusetts and Kentucky, but I really wanted to live in the Southeast."
Swan is excited to join the Gulf South Conference and eager to begin the 2013 volleyball season as a Blazer. His emphasis on academic success will play a crucial role in his coaching responsibilities.
"Academics is huge to me and has been everywhere I have coached," said Swan. "I have always recognized academic excellence. In my 10 years at Evansville, the volleyball team was recognized as one of the top academic programs in the country. I want this to be important to the girls; it is important to me. They need to be ready when they leave here and prepared to be successful. I think a lot of that has to do with time management."
Swan is proud that four of his returning players were on VSU's spring dean's list.
"I pinpoint academics when I recruit," said Swan. "I look for players that are going to do well academically."
Swan knows he has a big job ahead of him and looks forward to the challenge. He is confident that he has the support of the university and community.
"I tell them [recruits] that we have an opportunity to do something really good here. All the other teams have been successful; we have great facilities, and we have tremendous support from the Athletic Department," Swan said. "It is about bringing in the right people, with the right mindset."