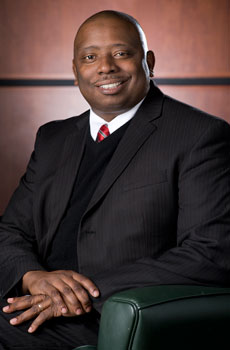 Dr. Robbie Hooker, '88 and '89, was named the 2013 Georgia Principal of the Year by the Georgia Association of Secondary School Principals. The Clarke Central High School principal was also nominated for the National Association of Secondary School Principals (NASSP) award.
Hooker, a native of Boston, Ga., was raised in a single parent home and credits his mother with impressing on him and his siblings the importance of a college education.
"My mom had one rule, which was simply for us to go to college or go into the military," said Hooker, who worked his way through college as a resident assistant and dorm director.
Hooker, who received a bachelor's degree in psychology and master's in special education from Valdosta State University, understands that a successful educator always has the desire to learn.
"Most people think of teaching as having the summers off and that it is an easy job. You must remember that education is a profession and that you must treat it as such," said Hooker, who earned a doctorate in educational leadership from Clemson University. "A good educator is always looking for ways to improve their craft; in other words, they are life-long learners."
Dr. Rob Kellner, VSU's director of Auxiliary Services, is not surprised that his former employee has been recognized for his professional accomplishments.
"The characteristic I remember most about Robbie was his focus," said Kellner. "It did not matter if it was academics, his job or intramural basketball, which he loved, he was driven to succeed.  I have remained in contact with him over the years, and this characteristic has not changed. I see him just as focused on his career and his family today."
Hooker has continued to visit campus since graduating, often bringing his family to see the changes at his alma mater and visit with friends.
Joan Dear, project coordinator for Creative Design Services, remembers Hooker as a student assistant and volunteer in the Division of University Advancement. "Back then we didn't have a formal Event Services department; we all pitched in for development events on campus," said Dear, who has worked in various positions within University Advancement for 28 years. "He was always willing to do anything we needed, especially errands. He also volunteered to supervise the annual fund phonathon one year."
Dear, who continues to stay in contact with Hooker, said she is proud of his professional accomplishments. "Robbie was a gentle giant, very upbeat, positive and eager to help, always respectful."
Under his leadership, Clarke Central High School has been named among the top 7 percent of high schools nationwide by The Washington Post's High School Challenge. Clarke Central was one of 10 schools nationally selected as a 2013 MetLife Foundation—NASSP Breakthrough School. Each year, the MetLife Foundation recognizes middle and high schools that serve large numbers of students living in poverty and are high achieving or dramatically improving student achievement.
His desire to help children came while working at the Georgia Lions Camp for the Blind and with special needs adults at Lowndes Area Advocacy Center (LARC).
"The most fulfilling thing about being a teacher and principal is being able to make a difference in a child's life," said Hooker. "You can never give up on a child. It is important to build a rapport with your students and because they are willing to engage when they know you care."
Hooker and his wife, Karen, have two children, Kaitlyn and Johnathan, and are active members of the Timothy Baptist Church. Hooker also serves on the boards of St. Mary's Hospital and Familes4Change in Athens, Ga.