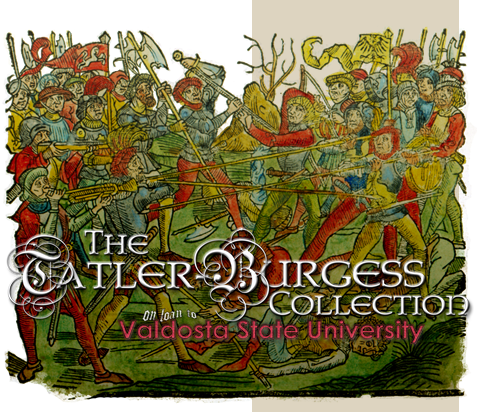 Next Thursday, October 11th, 2012 at 7 PM , Odum Library and the Honor's college will be presenting the faculty student colloquium "A Guide to Collecting, Authenticating and Exhibiting Antique Printed Artifacts" in the University Center Theater. The event will be hosted by Deborah Davis and Andrew Tatler-Burgess and will discuss items featured in the Tatler-Burgess Collection that is currently on display in Odum Library.

About the Collection
The Tatler-Burgess Collection is the fruit of many years of work. This exciting library of pieces, some of which date back to the middle of the 15th century includes woodcuts by Albrecht Dürer and others offering glimpses of the artistic taste of the late medieval/early renaissance period.
The collection boasts rarities of unsurpassed quality such as a leaf from the Saxon Chronicles and leaves from Sebastian Brandt's Ship of Fools, a very popular allegorical work in its day, depicting frowned upon vices and sins.
Those interested in printing history will enjoy incunabula; leaves from various important bibles and other works; woodcuts, copperplate and steel engravings as well as lithographs. An additional thirty pieces are on exhibit in the VSU Archives and Special Collections on the 4th floor.
Scholars will be able to compare works spanning hundreds of years and covering diverse topics and will be given the opportunity to handle work not normally found outside of museums or major collections.
Visitors will be able to enjoy many antique maps some by important cartographers such as Blaeuw, Bonne and Vaugondy. Research carried out by Douglas Carlson, a History Major senior, will help us understand the salience of some of the pieces shown.
Artists will not be disappointed either with Albrecht Dürer, Virgil Solis, Hans Springklee being represented alongside work by Picasso, Matisse, Dufuy, Bonnard, and Maillol.
This is an exciting opportunity to be able to study important and rare works spanning over 500 years of printing history.
This important exhibition is made possible through the generosity of Andrew and Kathy Tatler-Burgess, the Valdosta State University Ar-chives, and faculty, staff, and students.
Special thanks to Douglas Carlson for digitizing items and historical research.
Andrew and Kathy Tatler-Burgess are ardent and discerning collectors of rare and interesting antiquities. This exhibition is part of a collection put together over many years. The ability of Kathy and Andrew to be able to bring together such a diverse representation of printing history demonstrates both their love of history and their willingness to invest time and effort in seeking out exciting pieces.