by
Maureen Puffer-Rothenberg
on
October 16, 2012
in
Odum Library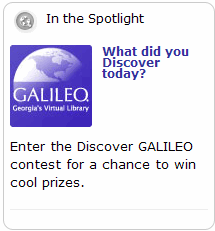 Tell Us What You Discovered Using the New Discover GALILEO Search Tool For a Chance to Win
To celebrate the launch of Discover GALILEO, the "What I Discovered Today" contest will last throughout October with both
daily and weekly prizes

awarded to GALILEO users just for sharing their search experiences. Discover GALILEO brings a new user experience enhanced by meaningful results and lots of tools to manage research, such as a personal folder and facets for drilling down to the most useful articles.

Entries may include exciting articles or other content that really satisfies the search, fun facts or new knowledge, useful tools featured in Discover GALILEO, or other discoveries, large or small.

Prizes are provided by EBSCO.
Daily prizes of $25 gift cards

will be awarded to the submission randomly drawn from each day's entries. A

weekly prize of an iPod Shuffle

will be awarded to the name drawn from all entries submitted during the week.