This article was written by Charles S Moye, C/1LT, AFROTC (Fall 2021 Public Affairs Officer)
Detachment 172 hosted an HH-60W helicopter and crew from Moody AFB. The goal of this visit was to expose Air Force ROTC cadets to the career of an HH-60W pilot.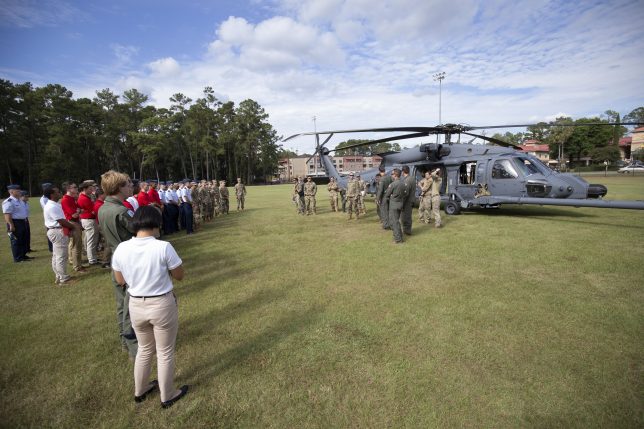 Above: Cadets look on as Moody AFB personnel speak. Photo taken by Ethan Lowe.
Major Moore, Valdosta State University alumnus and pilot, shared his experiences and provided advice to cadets. Joining Major Moore were six additional military officers consisting of an A-10 Pilot, C-130 Pilot, C-130 Combat Systems Officer, two Intelligence Officers, a Maintenance Officer, and two HH-60 Special Mission Aviators who also provided advice and answered questions regarding their respective career fields.
Underclassmen were given the opportunity to gain more insight into various career options and Upperclassmen were given the opportunity to gain insight into the life of a commissioned officer. This visit to Detachment 172 is another great example of the partnership among Moody Air Force Base, Detachment 172, and Valdosta State University. Photos from the event can be viewed here:
https://www.flickr.com/photos/valdostastate/albums/72157720052137604/with/51616173129/ (all photographs taken by Ethan Lowe).
Check out Detachment 172 on Instagram at https://www.instagram.com/det_172/ and read more about VState's AFROTC program by clicking here.