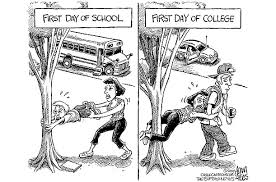 The Center for eLearning recently interviewed Niki Turley, Associate Dean of Students, who created a  seven week BlazeVIEW course designed for VSU parents of first-year students. Niki told us "The overarching objective is to create an inclusive and supportive environment for first-year student parents, which addresses the transitional and informational needs of parents of new VSU students. Topics for discussion, include What to Expect from Your College Student's First Semester Grades, Discussing Campus Safety with Your College Student, and Connecting with Your College Student by Phone."
We also asked Niki why she decided to create the course. "I have worked with parents in various capacities throughout my career, and I have seen the transition challenges, in one way or another, they encounter. As such, I've wondered how to extend parent orientation in way that provides both transition support and information about university services and programs. I feel the best way to do this is through an online seminar. The opportunity to design and implement such a seminar presented itself this past summer. I came across a college parent website and I was immediately impressed with the content (www.collegeparentcentral.com). I reached out to the developer about a possible partnership, and two & a half months later – we have a seminar for parents of first-year students. In addition, the advanced technology at VSU made it possible to develop an asynchronous platform to deliver the content in a self-guided fashion.
The instructional methods include online reading assignments that comprise related and practical information, applied activities, and interactive discussion conducted via VSU's online computer program. For each week's readings and activities, participants are able to work at their own pace and access the seminar materials and discussions at their convenience.
The seminar is a unique learning avenue for parents and families to better support their transition needs and those of their college student, connect with other VSU parents and families, and acquire information about university services and programs."
Instructors for the course are Niki, who has over 19 years of experience at four diverse institutions and Vicki Nelson, who has more than 30 years of experience in higher education as a college teacher, academic advisor and administrator.
Congratulations for thinking out-of-the-box and creating a great course for VSU parents.