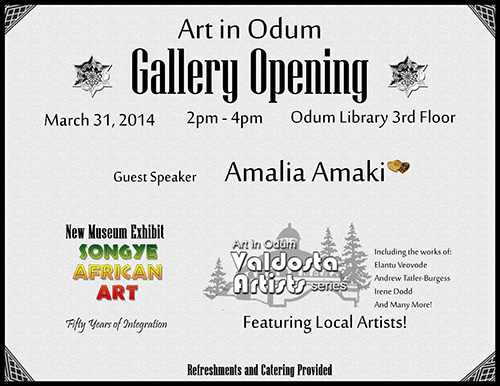 The Odum Library is proud to present another wonderful Art in Odum event on Monday, March 31. We will be opening two galleries and welcoming a guest speaker, Amalia Amaki. The event is open to the public and all are welcome to attend. Refreshments will be provided.
The two galleries are the Songye African Art Masks and Power Figures, a permanant installation of art from the Democratic Republic of the Congo that was donated by the US Fish and Wildlife Services to VSU. In addition to 33 dramatic sculptures, the collection also includes banners of field drawings of the collection by Elantu Veovode, Valdosta Artist. Our second gallery on the third floor is the "Valdosta Artists" gallery, featuring works by VSU Faculty, students, local Valdosta artists, and artists who have exhibited here or have some strong link to VSU. These include everything from digital art, sculpture, prints, acrylic, oil and watercolors. The pictures range in age from 1954 to 2013. Full bios of the artist gathered during interviews hang next to each picture so that patrons can learn about them. As many of these artists who can get here will be near their works answering questions and discussing their work.
One of the most exciting parts of this event is our guest speaker Amalia Amaki. After the death of long-term library donor William H. Mobley, we were given some funds by the Mobley Family in order to purchase a tribute to Mr. Mobley. Mobley had given the library at least one million dollars worth of books for our collection over many years. He would seek out books from the library of congress' book room, where special representatives were allowed to select books for libraries and with the help of representative Jack Kingston, would mail box after box of new books to our library. He was especially excited when he found art books to send. Because of his interest, we decided the tribute would be a piece of art in his honor. The VSU Art Funding Pool matched the family's gift and with this funding we were able to approach galleries and artists about an appropriate piece. We wanted an artist from Georgia and we wanted to content of the portrait to relate to books in some way.
We were thrilled to find artist Amalia Amaki. She had just concieved of a piece in her series of works about dancing that was going to feature books. In discussions with Amaki, she decided to focus the work on VSU, Odum Library, and our donor. "Dances with Books" was born featuring two children dancing on books, including such topics as child psychology, dictionaries, literary classics–books that cover topics relating to a well rounded education. Several of the books are by Valdosta Artists. The center of the work is a book about the life of Mobley and the children's pose points to a book at the top, "the sky's the limit." Covering the painting are gorgeous glittering buttons, what Amaki has called "domestic treasures." These create a look of richness, evoking the rich domestic life that surrounds these children who are going to go far. Amaki created a signature piece for Odum Library and VSU. It is permanantly hung in an alcove near the South entrance to the library.
This commission opened up a rewarding relationship with Amalia Amaki and Odum Library. In addition to being an artist, Amaki is also the currator of the Paul R. Jones Art Collection at the University of Alabama in Tuscaloosa, one of the largest collections of African American Art in the world. From that collection she has given VSU 16 boxes of books, some very hard to find, on African American Art. These books are duplicate copies from the exceptional Paul R. Jones collection and we are very lucky to have them to add to our book collection. Amaki is going to speak on "Art and Inclusion" for our event. Please come out and see these collections and meet our exceptional artists.
If you have any questions concerning the event, please contact Deborah Davis at dsdavis@valdosta.edu