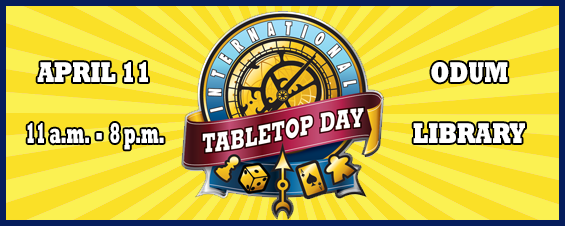 Valdosta State University's Odum Library will celebrate International TableTop Day from 11 a.m. to 8 p.m. on Saturday, April 11.
Students, staff, and faculty, as well as the public gaming community, are invited to visit the library to both play and discover new board games, card games, dice games, and more. Many of these games are part of the Tabletop Games Collection at the library.
Children and adults of all ages are welcome and encouraged to bring their favorite games to share with others in attendance.
Pizza and drinks will be served.
Designed to strengthen bonds with family and friends, International TableTop Day activities are coordinated locally by the Odum Library Tabletop Games Committee in conjunction with Valdosta-area partner The Geek Society.
This is the university's third year celebrating International Tabletop Day.
TableTop Day 2014 was celebrated in 80 countries, over all seven continents, and boasted more than 3,000 events, like the one hosted by VSU's Odum Library.
Contact Jonathan Klotz in the Odum Library at jrklotz@valdosta.edu to learn more.