The 2016 redesign of the main Valdosta State website introduced a revamped Our Team template for department sites, as well as brand new directory profiles. The two are related since Our Team pages provide the data for the individual profiles. In this post we're going to go over how they work together and how departments can fully utilize them going forward.
Cards and Directory Profiles
Cards on the Our Team template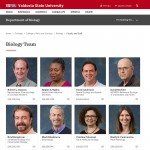 The new Our Team template features a "card" for each person who has information entered for a detailed profile in the page. The card will display info entered for the Name, Short Title (new field), Office Phone Number, VSU E-Mail Address, and Profile Image fields.
Directory profiles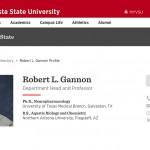 Directory profiles make use of all of the information entered in for detailed profiles (with the exception of the Short Title field). A profile is accessible via clicking a profile card on an Our Team page or through searching the campus directory.
Making edits and publishing time
This version of the Our Team page is maintained in Cascade Server like previous versions. Each department should have an Our Team page in place that their Cascade site editor can make updates to. Many of the fields are the same, with the addition of the Short Title and Brief Biography fields.
Publishing out the Our Team page itself is as quick as hitting the Publish tab in Cascade. The profile cards and basic profiles (listed under the cards if used) will update once the page is published.
However changes to data that displays on an individual's profile page do not show up until the next day. These changes are imported nightly and are used to compile each person's individual page.
Profile Images
Faculty and staff can contact our university photographer Paul Leavy to schedule a time to have a profile picture taken in the studio. Department Cascade editors can work with Web Services to upload and place professional head shot images into profiles.
What if I have more than one Our Team profile in Cascade?
In some cases a faculty or staff member may have more than one profile entry on separate Our Team pages in Cascade. It's important to note that only one directory profile can be linked to. An entry created in the system on a second Our Team page will link to the original or first directory profile created. This is the only profile that is accessible via Our Team pages or through the campus directory search.
The only information that will be unique to that second entry will be what displays on the profile card itself.
With this in mind, some individuals may prefer that their "main" profile should be switched to a secondary entry. They can contact Web Services to request which profile should be the "main" profile.
We're open to ideas
Website development and improvement is an on going process, and the Our Team template is no exception. We're open to ideas from faculty and staff regarding what we can do to improve Our Team pages going forward. Please leave a comment below or contact us via email (webservices@valdosta.edu) with your suggestions.