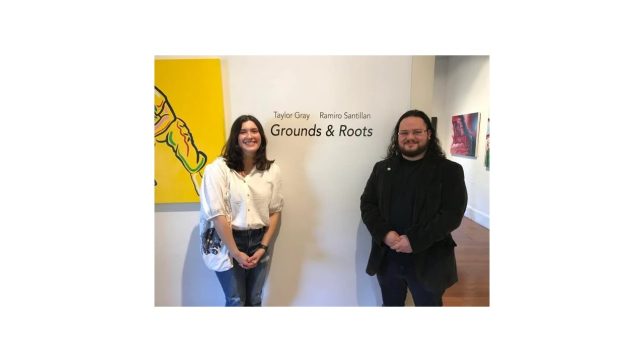 By Davis Cobb davis.cobb@gaflnews.comApr 17, 2022
TIFTON — The latest exhibit from Plough Gallery questions methods of communication, perception and critiquing through the medium of figurative work – all from two university seniors completely new to the gallery.
"Grounds & Roots" is the gallery's newest exhibit, showcasing the works of artists Ramiro Santillan and Taylor Gray, two art major seniors from Valdosta State University.
The pair have known each other since high school, but this is their first time collaborating on a project of this caliber, they said. The exhibit also marks both artists' first appearance at Plough Gallery.
During this collaboration, each artist has brought their own unique style to the exhibit; Santillan's focus on art history that harkens back to the Baroque and other classical painting styles, and Gray's greater emphasis on her personal life and experiences.
"For my work personally, it calls upon my idea of femininity for myself," Gray said. "I've taken inspiration from my home life, the rooms that I grew up in that mean a lot to me, the spaces, the interiors of those spaces, and the clothes that I wear."
The exhibit is meant to tackle themes such as politics, culture and interpersonal relationships, especially how they are affected in our current era by events and situations such as the COVID-19 pandemic. Santillan said he hopes the exhibit, as well as his own art, will help people realize that art can exist and come from anywhere.
"I think a lot of people think that art can only exist in big cities, artists can only be successful in big cities," Santillan said. "I think it's about just making work, and having a community that enjoys seeing work."
A reception was held earlier this month to celebrate the exhibit opening and give residents of Tifton a chance to meet the artists behind it, where several members of the community eagerly answered Santillan's hopes, dozens of people milling about the gallery and enjoying the work by he and Gray.
"Grounds & Roots" will be on display at the gallery until May 14. For more information, contact Plough Gallery at (229) 396-4200