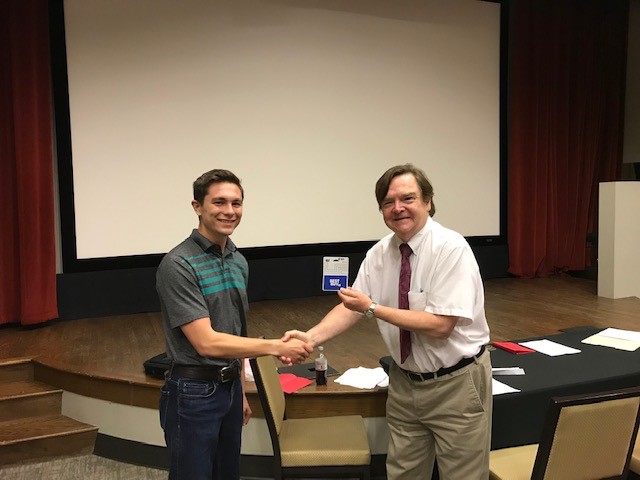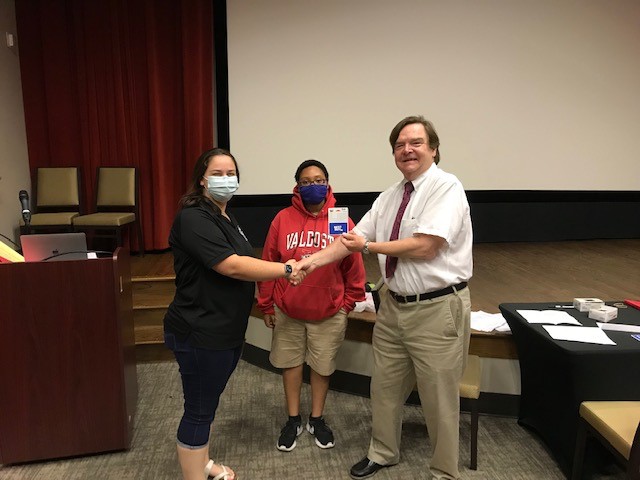 ---
FROM: DENNIS CONWAY, FOR THE F.V.S. DATE: MAY 3, 2022
On Saturday night, "No Limits, No Refunds," Ben Strickland's inspiring 29-minute documentary about a childhood friend with autism, won the First Place Award for Audience Favorite at the Spring 2022 Film and Video Society Showcase. Strickland's piece follows the life of his friend, Gus, who was diagnosed with autism at an early age, and yet became an outstanding high school wrestler, and who now attends college and studies Media. The film's title refers to Gus's family's optimistic motto for approaching life every day, and making the most of it. The screening took place at the Student Union auditorium, in a program with 24 videos.
The Second Place Award went to Nina Hannaford and Emily Sanchez, for their 21-minute documentary, "Queen of Clubs," which profiled Cameron, a young male weekend drag performer, who finds the experience therapeutic. In the piece, Cameron explains his approach to performing, life, and entertaining others. The Third Place Award was won by "Armadillo," a 5-minute educational video with animation, created for the Grand Bay Wetland Educational Center by students in a Mass Media Special Topics class. The movie's star is a real-life armadillo who lives at the Center, a mammal whose unique features are described by one of the Center's handlers. The piece was created by 4 students: Chontele Abney, Jamie Collins, Brooke Meindl, and Brianna West.
Professor Dennis Conway, the F.V.S. Faculty Advisor, hosted the event, assisted by students Davion Hasecuster as Announcer, and Tripp Montgomery for Lighting. The Top 3 Audience Favorite film makers received gift certificates to the Best Buy electronics store.
The Film and Video Society meets in the Mass Media Building. The organization facilitates production of narrative and documentary videos through connecting filmmakers with other enthusiasts, and offers a venue for others to view your productions at its Showcases. It also sponsors a yearly Viewing Party on Oscar night, "Reel Wars" debates about film industry topics, a 48 Hour Film Festival, and other film showings.