The two of us have been traveling since the late 1960s and writing about it since the 1970s when we authored a three-volume set of guidebooks about America's national parks.  We subsequently authored a guidebook describing national park lodges (currently in its 9th edition). We have authored numerous travel articles for newspapers and magazines.
      In 2016 we began a weekly travel column for Community Newspaper Holdings, Inc., an Alabama-based firm that owns over 110 newspapers throughout a 24-state area stretching from Texas to New England.  While no longer producing a weekly column, we continue writing occasional travel articles for the firm.
    We have discussed travel on various radio programs and twice been invited guests on NBC's Today, once during a live show from Yellowstone National Park and again from Grand Canyon National Park.
      While particularly interested in America's national parks and lodges, our articles cover a wide variety of travel activities and destinations.  Past topics include Key West, the Texas Hill Country, Route 66, Ann Arbor, Union Pacific's Bailey Yard, driving the loneliest road in America, traveling through Europe by rail, and following the Oregon and the Lewis and Clark Trails.
      We have authored Web articles for Away.com, Forbestraveler.com, USAToday.com, and are regular contributors to nationalparkstraveler.com.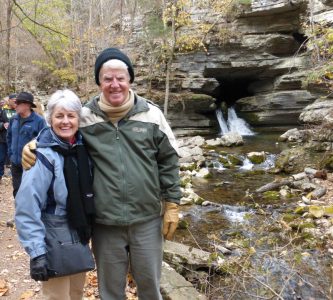 Our Background
Kay Woelfel Scott was born in Austin, Minnesota, and raised in Yankton, South Dakota, and Clearwater, Florida. She earned degrees from Florida Southern College in Lakeland, Florida, and the University of Arkansas. Kay served as a teacher and administrator in elementary schools in Arkansas, Florida, and Georgia.
David Scott was born and raised in Rushville, Indiana. He graduated from Purdue University, Florida State University, and earned a PhD in economics from the University of Arkansas. He has authored over two dozen books about investing and personal finance including Wall Street Words and the American Heritage Dictionary of Business Terms, both for Houghton Mifflin.