Where were you at 3pm on Saturday, September 6th 2014? If you are a real VSU Blazer, than you were at the inaugural student tailgate happening at the corner of Brookwood Drive and Slater Street. For 4 hours, that grassy lot became host to one of the greatest outpouring of Blazer pride that this member of the VSU family has ever seen. Student tailgating has finally come to Valdosta State and it. was. AWESOME! Over the summer, members of Athletics, the Dean of Students and Student Life formed a group to increase student participation and support at football games this fall. After researching what other schools do at their Athletic events, it was decided that we needed a designated student tailgate, something like The Grove at Ole Miss or Texas A&M Kingsville. 
It was decided that VSU would provide the space and the music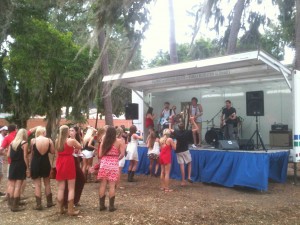 but the students would provide the fun. The lot (which has yet to be named) can fit approximately 80- 10'x20′ spaces, which students can reserve to bring tents, tables, tv's, grills, couches or anything else that will fit.
The next football game is this Saturday, September 20th vs. Delta State. Help us turn this into