Valdosta – The College of the Arts will hold a memorial service for  Dr. Laurence Etling on April 24, 2015 at 6:00 p.m. in the Student Union Ballroom on the campus of Valdosta State University. A reception will follow the memorial service. For more information, please contact the Department of Communication Arts at 229-333-5820.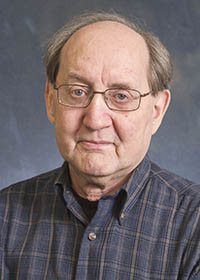 Laurence Etling
Larry Etling was a quiet person, but he cast a large shadow over the department and the University.  He played an important role in guiding the Mass Media program through its many growing pains.  He was a good friend and colleague.
Larry started his career a long way from Valdosta Georgia, growing up in the Canadian Midwest; he attended the University of Saskatchewan where he earned his undergraduate degree in Theater.  After graduation, he worked for several radio stations in various capacities including announcing, reporting, directing, and editing.
After about seven years of radio work, Larry returned to school, earning his master's degree at the University of North Dakota in Speech Communication. While in North Dakota, he worked for National Public Radio as a reporter.  Upon completing his degree, Larry returned to Canada to work for the Canadian Broadcasting Corporation as a reporter and editor.
Two years later, in 1987, Larry decided to continue with his education and moved to Athens, Georgia to work on his doctoral degree while continuing his radio career working as a reporter and writer for the local National Public Radio station.
In 1984, Larry completed his Ph.D. and moved to his new love, teaching.  He taught and managed student media on a number of campuses before he settled in 1999 at Valdosta State University.  The rest, as they say, is history.
Larry quickly became a touchstone for the department and his calm outlook helped the Mass Media area and Communication Arts department navigate a number of difficult issues related to curriculum, program development and size, and staffing.  Faculty routinely sought his advice and guidance.
Larry routinely engaged in scholarly research and publication efforts, producing several books, numerous journal articles and book chapters, and convention papers and presentations.  He was an active and engaging scholar.
Students loved Larry.  He presented well-organized, coherent courses that students knew would be enlightening and thought provoking, but also rigorous.  He created positive learning environments that encouraged students to experiment and explore ideas beyond the classroom.  Students left Larry's classes far better for the experience.
Larry will be missed as a friend, colleague, teacher, and neighbor.